College Graduates Class of 2014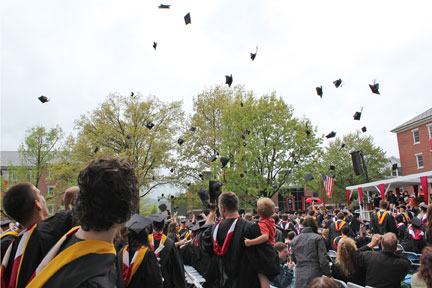 Vice President of Student Affairs Dr. Andrew Robinson as Keynote Speaker; College Bestows Granite State Award and Honorary Doctor of Science
Keene State College will honor the Class of 2014 this weekend during the College's commencement ceremony. Degrees will be awarded to 1,091 graduates. Students in this year's graduating class have some of the strongest records in academics and community service. Keene State's commencement ceremony will be held on Saturday, May 10. The ceremony begins at 1 p.m. on Fiske Quad.
"On behalf of Keene State College faculty and staff, I congratulate the Class of 2014 on their many achievements – in the classroom, on the playing fields, and in service to others. During my first year as president I have been fortunate to experience the talents, hard work and success of our future leaders. I now look forward to celebrating this milestone with them as they cross the commencement platform," said Keene State College President, Dr. Anne Huot.
This year's Keene State College graduates have bright futures ahead. Just a couple of many examples include:
Johanna DeBari, who will attend the University of Connecticut, where she'll work toward on a master's degree in international studies with a concentration in human rights. She's been granted a tuition waiver and a graduate assistantship that will earn her a $16,000 stipend.
Journalism major Matt Schwartz, who has interned at WCVB-TV and WFXT-TV (Fox), both in Boston, has accepted a job as an assignment editor/web producer at WTIC-TV (Fox) in Hartford, CT.
There are many more exciting plans in the works for our 2014 graduates. An ever-growing list can be found here.
Dr. Andrew Robinson, the College's out-going Vice President for Student Affairs, will be the keynote speaker at this year's ceremony. The Honorary Doctor of Science Degree will be presented to Dr. Howard W. Smith '42, for his contributions to medicine and to medical education. The Granite State Award will also be presented to John G. "Jack" Dugan, president of the Monadnock Economic Development Corporation.
Related Stories