Taylor Ciambra '14 Carries Her Caring, Community Spirit to Alaska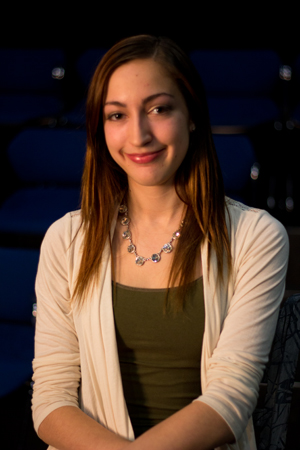 It's funny how the experiences in your life can shape your destiny. Because she found a photo of her grandfather in Alaska after he died, Taylor Ciambra '14 wanted to visit the Last Frontier. Because she'd done a service trip to Guatemala last year, she was drawn to the idea of living simply. Because she'd been an RA in Owls Nest 7, she wanted to live in an intentional community. So before she graduated, she applied for a position with AmeriCorps and the Jesuit Volunteer Corps Northwest, which focuses on social and ecological justice, simple living, spirituality, and community, and after graduation she's headed to Sitka, Alaska, where she'll be doing hospice work.
Ciambra is a theater major, and she submitted her theater resume when she applied for the job. "During the second interview," she recalled, "the interviewer focused on my theater experience. I told her about my background in directing, specifically the challenges and joys of The Vagina Monologues, which I directed in February. She was most interested in how I involved the Monadnock Center for Violence Prevention, the KSC Counseling Center, Mentors in Violence Prevention, and the athletics department in that effort. The position is for a community-outreach coordinator within a hospice, and being able to integrate multiple organizations and people to achieve one goal is important in both directing and hospice outreach. The organization is also working to employ different modes of therapy for the patients, such as music and writing. For example, TimeSlips involves documenting the stories seniors with dementia are telling through vague prompts. Basically, I think they were interested in my capacities to take direction well and be an organized, creative, and personable leader who is focused on taking care of individuals and how that impacts communities."
Related Stories