KSC Names Mr. Kemal Atkins as VP for Student Affairs and Enrollment Management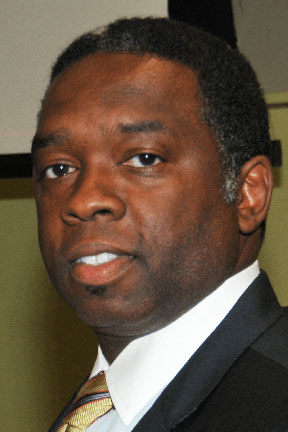 Keene State College proudly announces Mr. Kemal Atkins as its new vice president for student affairs and enrollment management. Mr. Atkins brings 19 years of experience and leadership to his post at Keene State College. For the past four years, Mr. Atkins served as vice president for student affairs and Title IX coordinator at Delaware State University. In this role, Mr. Atkins provided leadership in the areas of student learning and outcomes, student recruitment and retention, staff development, crisis management and Title IX compliance, among many others. Mr. Atkins will begin to serve as Keene State College Vice President for Student Affairs and Enrollment Management on June 30, 2014.
"I am thrilled to join the leadership team at Keene State College. The College is known for its commitment to students and fostering student success in a supportive environment, which mirrors my own priorities. It is because of this emphasis that I know Keene State is a great fit for me," said Mr. Atkins. "I am eager to get to know the students, faculty and staff, and continue the strong programs already in place, while moving the college forward in enrollment management. How we serve students now, determines our future – I am honored to be a part of this story."
Highlights of Mr. Atkins's accomplishments at Delaware State University include:
Redesigning student affairs division to improve operational effectiveness
Establishing the University's Title IX Office
Establishing staff development programs to provide student affairs staff with opportunities to learn new skills and knowledge
Creating and implementing policies and programs that improved campus safety
Establishing policies and implemented programs that improved recruitment and retention of students especially underrepresented populations
Creating a Student Employment Office which improved the student hiring process and provided professional development to student employees
Leading efforts to expand programs and services in the Office of Career Services
Redesigning and expanding freshman Living Learning Communities including the construction of smart classrooms in two residence halls
Creating the Student Affairs Assessment Committee to focus on student learning outcomes
Leading technology developments and enhancements
Expanding Student Leadership Development Programs, which resulted in a 20 percent increase in student candidates for student organization leadership positions
Dr. Anne Huot, Keene State College President, said "I am delighted that Kemal will be joining our leadership team at Keene State. His commitment to students, experience in enhancing the student experience and strong administrative leadership make him the right choice, out of many qualified candidates. On behalf of the campus community, welcome Kemal – we look forward to your arrival."
In 2008 and 2009, Mr. Atkins served as vice provost for student affairs at East Carolina University, Greenville. Mr. Atkins led initiatives in college access, academic and student affairs with The University of North Carolina General Administration from 2001 to 2008. Prior to this role, Mr. Atkins served as director of ThinkCOLLEGE, taught as an adjunct faculty member at Central Piedmont Community College in Charlotte, NC and served as assistant director of undergraduate admissions with East Carolina University.
Mr. Atkins earned a BA and MA in English Literature at Appalachian State University, and will complete an EdD in Educational Leadership this summer.
Related Stories