Keene State Students Show They Are Up To The Architectural Challenge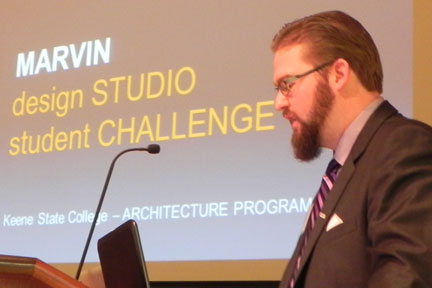 Several Keene State College architecture majors showed they were up to the challenge, competing in the recently held Marvin Design Studio Student Challenge on campus. The Challenge, which gave students a chance to design a building on the College's master plan, was the brainchild of Patrick Gordon, a corporate representative from A. W. Hastings, the nation's leading distributor of the Marvin Family of Products based in Enfield, Connecticut.
Gordon's motivation to start the challenge came from personal experience. "As an architecture student, there wasn't a whole lot of energy and positive comments about the profession," he said. "I thought to myself, wouldn't it be great if students had someone in their corner rooting for them and really wanting them to succeed and inspiring them in some way? So in the position I'm in right now, I said, Why can't I be that person? That's why I reached out. We want to inspire the next generation of architects coming up in the ranks and entering the job market."
Gordon joined forces with KSC Associate Professor Bart Sapeta to bring the Challenge to Keene State. Now in its second year, the Challenge has helped Keene State students build their confidence and skills while acquainting them with the architecture profession.
Ten students, all members of a Design 3 course, were given the challenge of designing a new student success center addition to the library. Far more extensive and time consuming than their previous projects, the challenge called on students to work with multiple clients and departments on campus to determine space requirements for the 30,000-square-foot facility. "Students were given a lot of leeway in their design and given the opportunity to make choices and defend those choices," said Sapeta, who served as a mentor during the challenge.
There was plenty of incentive for the students to bring their A-game to the design table. In addition to two $500 scholarships and iPad Mini awards, Gordon also agreed to pay for the winners' first licensing exams.
Sharpening their pencils and keeping their compasses, triangles, and scales handy, the students went to work. Alex Sinclair, a junior from Avon, Massachusetts, presented a design that blended with KSC's linear and traditional campus. "I used different angles throughout campus to really create the shape of the building while also keeping in mind what it means to be successful and rise to success," said Sinclair, who received the scholarship along with Katlin O'Neil, a junior from Plymouth, Massachusetts.
A junior from Little Compton, Rhode Island, Roger Wilkie, went in a different direction. "I tried to make a building that would stand out on campus and use the influence of the snow to create an organic shape," said Wilkie, who along with junior Michael Kelly of Chelmsford, Massachusetts, was awarded an iPad Mini. "It was a lot of work, but it was a very rewarding experience to be able to present at that event."
Excited to design a campus building that students could relate to and utilize, Kelly used a theme approach that incorporated the word "success" as it relates to the mind, body, and soul. "I was looking to design a building that would stand out but still fit in with the campus," said Kelly, who enjoys the collaborative aspect of the field.
The designs got rave reviews from a panel of eight judges that was made up of architects and engineers, including Gordon and Frank Mazzola, the director of the physical plant at Keene State.
"The work this year was incredible and very well developed. We had some really bright minds in this year's challenge," said Gordon. "Quite honestly, it was difficult for us to pick winners. However, we did find a few students that not only had very good projects, but also excelled with their presentation skills."
"I've been involved in various types of architectural critiques and the quality of the work just goes up every year," said Mazzola. "Their work was really professional and the technical aspects of their production are improving because they're mastering the software systems that go along with the profession."
"I was very surprised I won the scholarship. Everyone had really great projects and did an awesome job," said Sinclair. "It was worth all the late nights and hard work."
Last year's winners, Jillian Tomaselli of Barrington, Rhode Island, and Ryan Glick of Naugatuck, Connecticut, are currently working on their graduate degrees in architecture at the University of Hartford.
Gordon and Sapeta as well as the students hope the Challenge will continue at Keene State. "I think this semester pushed us to a new level and projects like the Challenge will only benefit each class in the future," said Kelly.
Related Stories