Yuan Pan Finalist in International Silent Book Contest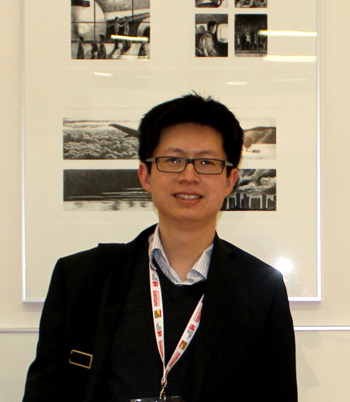 Associate Professor of Art Yuan Pan's was in Bologna, Italy, over Spring Break, because his wordless book The Last Goodbye was chosen as one of eight finalists in the Silent Book contest at the Bologna Children's Book Fair 2014. The Last Goodbye tells, through illustrations without text, the poignant story of a son's relationship with his father.
"The Last Goodbye is a semi-autobiographical story about loss and nostalgic reminiscence of childhood," Prof. Pan explained. "The son sets off for boarding school over the years and later makes the long trip overseas to begin his career. Whether at the bus stop or at the airport, his father is always there to see him off on his journeys. When the son realizes he should spend more time with his father, he finds his father very ill and misses the opportunity to bid his father a final goodbye."
"I love visual storytelling and its process of unfolding meanings and emotions through the passage of time," Prof. Pan continued. "By selecting and composing each moment, we can turn the most mundane events into memorable experiences. Connections made through the juxtaposition of images create visual rhythm, express ideas, and tell stories."
The Silent Book Exhibition will continue to travel internationally, and the winning work among the eight finalists will be selected this summer (2014). You may have seen the book if you visited the Faculty Art Show that was on exhibit at the Thorne Gallery from January 24–March 13. You can also see The Last Goodbye on Prof. Pan's website.
Related Stories