Student Artist Selected for People's Choice Award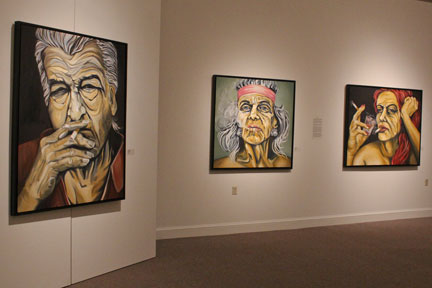 Keene State College's Thorne-Sagendorph Art Gallery Announces Student Winner of People's Choice Award
Kenneth Carr Selected by Gallery Visitors
Keene State College's Thorne-Sagendorph Art Gallery is currently displaying works created by Keene State seniors who have earned a Bachelor of Fine Arts or Bachelor of Arts in its Emerging Art Exhibition. Gallery visitors were asked to cast votes for their favorite artist to receive this year's People's Choice Commendation Award. The Thorne Gallery is proud to announce the winner, Kenneth Carr of Nashua, NH. The award is presented by the Friends of the Thorne. The last day of the exhibit is Saturday, May 10.
In a statement describing his work, Kenneth Carr said: "The people I paint are not what you usually find on billboard ads or in magazines; however they are people that could be found in dark shadows of cities, bars, and alley ways. These people do not portray role models or those with success stories, but people who have endured struggles and may still be struggling."
"Congratulations to Kenneth Carr – this recognition is much deserved. I am extremely proud of the incredible work completed by this talented group of seniors. Viewing this art at the Thorne Gallery is exciting, and it gives visitors a glimpse at the quality of artists that will soon begin their careers," said Lynn Richardson, associate professor of Art at Keene State College.
Related Stories