Equinox Students Win 18 National Journalism Awards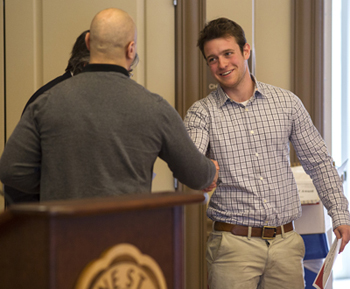 The Keene State College Chapter of The Society for Collegiate Journalists announced on April 22, 2014, that Keene State College Journalism students took home a total of 18 awards in its annual national competition.
The Equinox received a third-place award for Best Overall Excellence in the weekly division selected by Doug Livingston, education writer for the Akron [Ohio] Beacon Journal. This is the second consecutive year that The Equinox has been listed among the top three college newspapers affiliated with the SCJ.
"I am so proud of our KSC students and pleased all their hard work is being recognized," said Marianne Salcetti, associate professor of Journalism and advisor to the KSC chapter of the SCJ. "KSC students excelled in all categories such as news, photography, opinion, and graphic design."
Julie Conlon, a senior and The Equinox's executive managing editor, took a first-place award for her feature page, "Celebrating Life, Delivering Hope," and spring 2013 Arts & Entertainment Editor and Equinox alumnus Samantha Norton '13 earned a second-place win in the same category for her coverage of the Monadnock International Film Festival, "Keene Plays Host to Actors, Directors and Producers". Equinox Staff Writer Kaitlyn Coogan won first place in Hard News for her story, "Ready. Print. Fire."
Staff Writer Augustus Stahl picked up a first-place in Feature writing with his post-graduation story, "Student Shares Financial Struggles after Leaving KSC." Equinox reporters Taylor Thomas, Shannon Flynn, Morgan Markley, and Annelise Kloster received a second-place award for their multi-story package "Special Section on Cancer" as judged by J. Breen Mitchell of Channel 21 News, WFML, Youngstown, Ohio.
On sports photography, Editor Brian Cantore, senior, took first place for his "Men's 200 Relay Team." Judge James Colton, former Director of Photography at Newsweek also chose Cantore's "KSC Spills The Beans" for a second-place award in feature photography.
"This is the most SJC and NH Press Association awards The Equinox has ever won, and it speaks volumes to the dedication, hard-work, and relentless passion KSC's student newspaper staff possesses," said Lecturer in Journalism and Equinox co-advisor Rodger Martin. "These 18 will go nicely with the 10 New Hampshire Press Association awards Equinox staff picked up last fall."
Related Stories