KSC Again One of the Country's Greenest Schools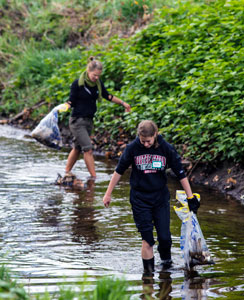 College Delivers on Commitment to Sustainability Year-Round
Keene, NH, April 21, 2014: Keene State College is again selected by The Princeton Review, in collaboration with the Center for Green Schools at the U.S. Green Building Council (USGBC) as one of 330 green colleges in the United States.
The report also includes two schools in Canada. Keene State has been included in this list every year, since the selections began in 2010. As part of its sustainability efforts, Keene State will be celebrating Earth Week with events today through April 26. Earth Day is celebrated around the world tomorrow.
"Keene State College continues to demonstrate its commitment to sustainability through actions all year long. From dining services to academics, sustainability is a value that is lived through the actions of many people at the College," said Mary Jensen, Keene State College Campus Sustainability Officer. "Students, faculty and staff are truly united in the goal of sustainability and I look forward to expanding our efforts by building on collaborations across campus and throughout our community to make even greater positive impacts."
Keene State College is included in the fifth annual report titled "The Princeton Review's Guide to 322 Green Colleges: 2014 Edition", which profiles higher education institutions in the United States and Canada that demonstrate distinguished commitments to sustainability in their academic offerings, campus infrastructure, activities and career preparation. The report can be downloaded at www.princetonreview.com/green-guide and at www.centerforgreenschools.org/greenguide.
Keene State will be celebrating Earth Day with a week of activities open to the public. More information about Earth Week events on Keene State's campus can be found here.
Related Stories