The Future is Bright for Class of 2014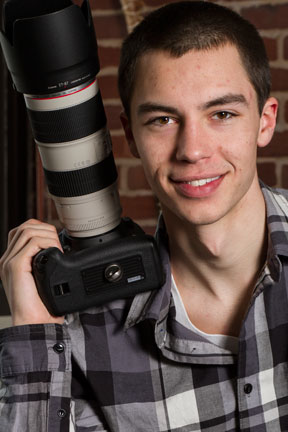 What's next for Keene State College's 2014 graduates as they head out into the world? Plenty! Here's a sampling of plans from this year's graduating class:
History major Lucas Braley is heading to Yale Divinity School. Read the story in Newsline.
Johanna DeBari will attend the University of Connecticut, where she'll work toward on a master's degree in international studies with a concentration in human rights. She's been granted a tuition waiver and a graduate assistantship that will earn her a $16,000 stipend. Read more about Johanna here
Will Ferguson, a Sustainable Product Design and Innovation major, has accepted a full-time position with Hitchiner Manufacturing, a foundry in Milford, NH. He'll spend a year training at Hitchiner's research and development center, and will then step into an engineering job at the company.
Several Health Science/Nutrition Option majors have been accepted into post-graduate dietetic internships. The post-graduate dietetic internship process is a required step in seeking registered dietitian (RD) status and is highly competitive, with a national acceptance rate of only 50 percent. "We are very proud of our seniors who have been accepted," says Associate Professor Becky Dunn of the Health Science Department. The students and their internships sites are: Breanna Butler, Yale New Haven Hospital; Lauren Caisse, Russell Sage College; Mackenzie Curtis, Oregon State University; Ashley Gardell, Medical City Dallas Hospital; Kara Pavlidis, University of New Hampshire.
Elizabeth Pockl will be working with New Hampshire Catholic Charities in Manchester through the AmeriCorps VISTA program.
Katherine Wadleigh will enter the Atlantic Acting School, a conservatory program of the Atlantic Theater Company in New York City.
Adam Lawley has landed a position with EIM Inc., a Keene-based Bar Code Media and Label Printing Systems provider, where he held an internship while a student.
David Draper will be working toward a master's degree in college student development and counseling at Northeastern University in Boston in the fall. He has a job as a graduate assistant in the university's Residential Life Department.
Graphic Design major Kian Stewart heads to Wyoming this summer for an internship with NOLS – the National Outdoor Leadership School.
Caitlyn Boyle will begin a position as a sales trainee with Wesco Distribution, an industrial supplier.
Caitlin Sullivan has accepted a full-time position as program director at the Goffstown YMCA and Y camps. "I've worked at the greater Nashua Y since I was in high school, and with my individualized major in sports and recreation management, it's perfect," she says. "I'm so happy to be able to make a career with the Y."
Journalism major Matt Schwartz, who has interned at WCVB-TV and WFXT-TV (Fox), both in Boston, has accepted a job as an assignment editor/web producer at WTIC-TV (Fox) in Hartford, CT.
Theatre and Dance major Alexander Davis will be working at the American Dance Festival in Durham, North Carolina, as a school administration intern.
Jordan Chase will be attending the Longy School of Music of Bard College to earn his master of music in Composition. The Longy School of Music is a conservatory located near Harvard Square in Cambridge, MA.
MichaeI Albrecht has accepted a full time architect position with SD Atelier in Saratoga, NY. After a year of employment he plans to enter a low-residency master's in architecture program at Boston Architectural College, and then to earn his architectural license.
Kaitlin Bates, a psychology major, has accepted a position at the Brattleboro (VT) Retreat as a mental health worker in the Adolescent Unit. She was also admitted to a Master of Science in Psychology program at Southern New Hampshire University, and will begin studies in the fall.
Cory Valentine has landed a full-time job teaching fifth- through eighth-grade math at Coventry School, located in Vermont near the Canadian border.
Madison Calabria will be attending graduate school next year, pursuing a master's in education.
Theater and Dance major Margaret Leary, who specialized in choreography and performance, will attend this summer's American Dance Festival in Durham, NC, as an arts administration intern. In the fall she will pursue a Master of Fine Arts in choreography and performance at either Sam Houston State University in Huntsville, TX, or the College of Brockport, State University of New York.
Journalism major Ray Waldron, who interned with the New York Rangers last summer, has accepted a job as a statistician with the Pawtucket Red Sox.
Carl Shell, an Environmental Studies major, has accepted a full-time position with Geosearch, Inc., out of Fitchburg, MA. Geosearch is an environmental contracting, geotechnical drilling company whose service areas cover all of New England, New York, Tennessee, and Florida.
Breanna Butler, listed above with other health science/nutrition majors who are going on to dietetic internships, plans to spend the summer in Costa Rica studying Spanish so she'll be better prepared for her internship at Yale New Haven Hospital and for career opportunities in California as a registered dietitian. She hopes to eventually open a private practice and continue to pursue her passion for traveling and volunteering on relief efforts.
After graduation, Julia Oberst will continue her studies with pre-med classes and is on track to apply to medical schools for fall 2015 admission. She hopes to work in the field of global medicine.
Emily Pelletier, a social science and secondary education major, accepted a job offer in March with C&S Wholesale Grocers of Keene, where she interned in her sophomore year. As a specialist in talent and organizational development, she will be creating curriculum and working on leadership development programs.
Virginia Mariolo will enter the clinical psychology doctoral program at Antioch University New England in the fall. She'll be specializing in post-traumatic stress disorder as it relates to sexual assault, domestic violence, and abuse.
Jocelyn Frederick has landed a job as a sourcing coordinator with C&S Wholesale Grocers of Keene.
Haley McConville will begin work as a residence director at St. Anselm College in Manchester.
Sarah Kelley has been accepted to a graduate program at Boston University.
Ben Healy is going on to graduate school at Boston College.
Cassidy Parent is off to Haiti for 10 weeks. She'll be working at a summer camp sponsored by Kids Alive International.
Lindsay Shapiro has a position in risk control with CNA insurance.
Michael David Staron has been accepted into the Juneau Ice field Research Program for an intensive six-week expedition/study across the Juneau Icefield of Alaska and British Columbia beginning, June 22, 2014.
Michelle Hayes, a theatre and dance major, is working as an intern for the youth program Kids on the Move at Dance Place in Washington, DC. She will be doing administrative work for Kids on the Move as well as assisting teachers in dance classes.
Kimberly Ratte will serve with City Year Baton Rouge for the 2014-2015 school year. She'll be working in the Louisiana city's public schools as a tutor, mentor, and role model.
Renn Bauhan, a graphic design major, has been hired as a graphic designer by Gupta Media, a Boston agency that offers media buying, creative services, and technology solutions, primarily for the entertainment industry.
A year after having a summer internship at Dyn, Matt Canning is now on staff at the Manchester technology firm.
Caitlin Proce landed a job as a direct sales representative for Rakuten Marketing in New York City.
Lisa Bryant, a communications major, has accepted a job as a media coordinator at Verso Advertising in New York City.
Keene State College wishes our graduating seniors the best as they "go forth to serve."
Graduating seniors: add your plans to our list. Email Jane at jeklund@keene.edu. We'll update this list regularly.
Related Stories