Study Committee Visits Keene State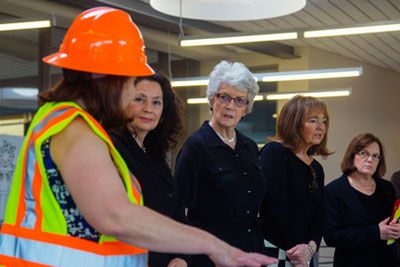 Members of the Public Higher Education Study Committee (PHESC) paid a visit to the Keene State College campus on April 14 to meet with President Huot and representatives from the Technology, Design, and Safety Center and the School of Professional and Graduate Studies. Dr. Todd Leach, Chancellor of the University System of New Hampshire, was accompanied by State Senator Nancy Stiles, Chair, and State Senator Molly Kelly, member of the Health, Education, and Human Services Committee. Also joining the group were Pat Waldvogel, Assistant to the Chancellor for Government Relations, and Shannon Reid, Director of Communications for the Community College System of New Hampshire.
The committee was given a tour of the TDS Center by Wayne Hartz Interim Dean of Professional and Graduate Studies, Lisa Hix, Chair, SPDI program, Donna Paley, Associate Professor of Architecture, and Lonna Blais, Adjunct Faculty, Safety Studies. A tour of the College's brand new Nursing Simulation Lab was provided by Mary Ellen Fleeger, Chair of the Nursing Program.
In her conversation with the committee, President Huot stressed the importance of both facilities as models for effective learning spaces, and their respective programs for their ability to provide Keene State students with opportunities to apply their educational theory to real-world practice. She also discussed the role of service learning in the College's curriculum and the value of the liberal arts foundation in preparing students with the capacity to communicate, to work in teams, and to contribute to a diverse society.
Dr. Leach described New Hampshire's unique financial model that allows institutions in the University System to leverage funding resources provided by the state. According to Leach, institutions are able to borrow against resources for projects with the potential to drive revenue, and to return the borrowed funds to the reserve. Senator Kelly provided some background on the Regional Center for Advanced Manufacturing (RCAM) and the partnership between Keene State, River Valley Community College, SAU 29, and the Greater Keene Chamber of Commerce, to provide training for employees at every level of manufacturing in the Monadnock Region. She observed that RCAM was a very early model for bringing business and education together in a partnership that enhances both. The role of the Public Higher Education Study Committee is to serve as a coordinating body between the University System of New Hampshire, the Community College System of New Hampshire, the General Court, and the public, to examine the organization, operation, and financing of higher education in the state.
Related Stories