Four Film Alums Instrumental in Ken Burns' "The Address"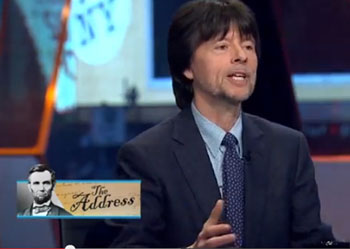 Four KSC Film Studies alums—Craig Mellish, Dave Mast '96, Lindsay Jackson '12, and J. Alex Cucchi '12—played critical roles in Ken Burns' latest—and very different—film project, The Address, which premiered on April 15 on PBS.
This 90-minute, feature-length documentary tells the story of the Greenwood School, in Putney, Vt., for boys ages 11-17 facing a range of complex learning differences that make their personal, academic, and social progress extremely challenging. Each year for the past 35 years, the faculty has encouraged the students to memorize and publicly recite Lincoln's Gettysburg Address. By examining this project, and the challenge it presents to these students, The Address also delves into the history, context, and importance of this powerful speech and explores how Lincoln's historic words motivate and engage these students 150 years after he spoke them.
Craig Mellish is listed in the film credits as filmmaker, editor, music editor and additional cinematography; Dave Mast '96 is technical director; Lindsay Jackson '12 is cinematographer and assistant editor; and J. Alex Cucchi '12 is apprentice editor, digital image restoration and animation, and transcription services.
Related Stories