Architecture Students Win in NESEA Student Design Competition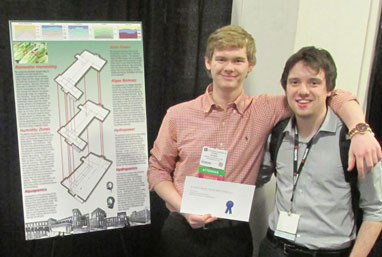 Last month, Associate Professor of Architecture Peter Temple traveled with four of his student design teams to the Northeast Sustainable Energy Association's (NESEA) annual conference, BuildingEnergy 14 at Boston's Seaport World Trade Center. BuildingEnergy is a cross-disciplinary renewable energy and high-performance building conference.
The four teams of KSC students entered the Student Design Competition, in four separate divisions that included residential and commercial and new construction and retrofit. One of those teams placed first and another came in third, and the two other teams received merit awards. The winners got $1000 and free hotel rooms, and all the students got free conference registration and a harbor cruise and dinner at the NESEA Night Celebration. This is especially impressive considering that the students were competing against quite a few other institutions, including graduate students from Yale and Harvard.
"The Student Design Competition was very challenging," explained Prof. Temple, "because all buildings had to be zero-net energy, which means they had to provide as much energy in a year as they consumed. Some of the buildings, such as the large industrial sites, could use hydro power from the existing canals that historically powered Holyoke's mills, but those in the residential category had to function completely from solar power. The design teams had to do the calculations to prove that their designs met the zero-net requirement."
Related Stories