Keene State Students Help Keene Green Up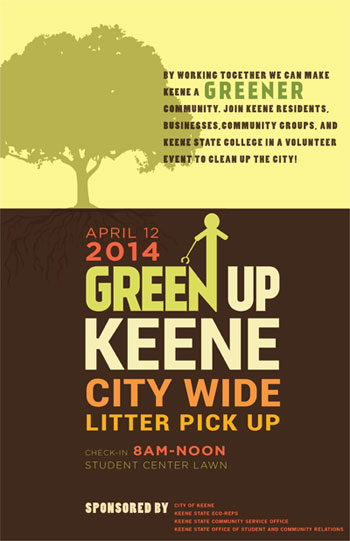 After seeing too much white stuff come down this winter, Keene State College students will help the city of Keene "green up" this weekend. Keene State students will join local businesses, community groups, and residents in Green-Up Keene, a volunteer city-wide litter pick-up on Saturday from 8 a.m. to noon.
The annual event, which began in 2008, has seen more involvement by KSC students over the years. "They've participated in some degree since we started, but have become full-fledged partners the past few years," said Eric Swope, a 1999 KSC grad and industrial pretreatment coordinator for the City of Keene, who oversees the program. "They'll probably be our biggest workforce on Saturday."
Sponsored by Keene State's office of Student and Community Relations, Community Service Office, and KSC Eco-Reps, along with the City of Keene, the event is aimed at sprucing up the city after a tough winter. Sign-up tables will be located downtown at Railroad Square and on the lawn of the L. P. Young Student Center at Keene State on Saturday. After being equipped with trash bags, gloves, and maps, participants will fan out to designated clean-up areas.
Working collaboratively, Keene State and the City of Keene have already assembled a significant workforce for the event. Many of the participants are associated with local businesses and community groups that take part in the city's Building a Spirit of Place project. The project, which looks to enhance the appearance of Keene while encouraging a sense of pride and community spirit, includes an adopt-a-street program that features seasonal clean-ups throughout the year.
Part of a pilot program last year, Keene State had five groups sign up for the adopt-a-street initiative. According to Allison Riley, the coordinator of Student and Community Relations at KSC, that number has grown to 19 this year. Each group is assigned to one or two off-campus streets that are within walking distance of campus and commits to doing pick-ups four times a year. Several clubs, athletic teams, fraternities, and sororities have joined the program.
"That's over 150 students who will participate on any given pick-up day," said Riley. Their work doesn't go unnoticed. Signs recognizing the groups have been placed on street signs throughout the city.
Several Eco-Rep students will also take part in Saturday's Green-Up. Student workers from the College's Sustainability office, Eco-Reps are directly involved in promoting environmental stewardship to peers in Keene State residence halls and other student life buildings on campus.
"I always think that a third of the students have some knowledge of environmental issues, a third would like to, and a third don't really care," said Mary Jensen, Keene State campus sustainability officer. "There are some students who do the trashing and then there are some students who go clean it up."
"We're hoping for a good response," said Riley. "We have a lot of groups signed up, with Waste Management picking up trash and providing Dumpsters, so it is a very well-oiled machine. I think people are getting pretty enthusiastic about it."
Riley said the Green-Up event helps to foster more open communication and a better connection between off-campus students and permanent residents. "I think it's really nice when permanent residents look out and see the students cleaning up," said Riley. "They see the students are not just transient, but people who are concerned about the city they live in."
"The students who take part in the program do feel like they are part of the community and feel like they are making a difference," said Jensen. "It gives them some ownership in the neighborhood. So in the long term, I think it will keep it cleaner. You walk in with a friend and he drops a piece of trash and you say, Hey, I have to come back and pick this up next week – quit doing that."
Related Stories