Student Art Abounds at KSC in April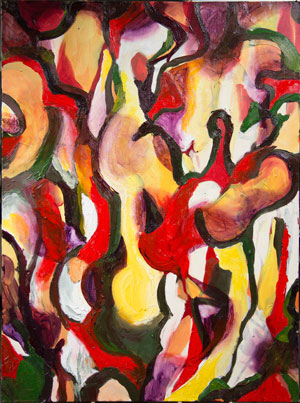 If you'd like to experience the creativity of Keene State's most talented visual artists, April is the month to visit campus. The art starts with 1-2-3 Go! Work from KSC Art Underclassmen at the Carroll House Gallery on Main St. from April 3–26. This second annual exhibition showcases the work of art underclassmen and features projects in graphic design, animation, sculpture, ceramics, printmaking, painting, drawing, and photography. Because the Carroll House Gallery is a teaching gallery for art students, students in Dr. Kate Martineau's Museum Studies Seminar will be designing, hanging, and lighting the exhibition.
From April 19 – May 10 the Thorne-Sagendorph Art Gallery will host Emerging Art: The Annual Keene State College Art Students Exhibition, featuring works by graduating art majors. There will be a reception on Friday, April 25, from 5:30–7:30 p.m., and visitors to the exhibit are invited to vote for a People's Choice Commendation to be announced May 5.
On April 25, from 3–7 p.m. 47 senior Graphic Design majors will present their portfolios for review in the Student Center. The review will include print media, web design, and motion graphics. The ultimate goal of the senior portfolio review is to network, meet business owners, and to eventually find and secure a job in the field after graduation, so visitors with graphic design needs are especially welcome. Refreshments will be available.
All three of these exhibits are free and open to the public.
Related Stories