24th Annual Outstanding Women of NH Awards Celebrates New Awardees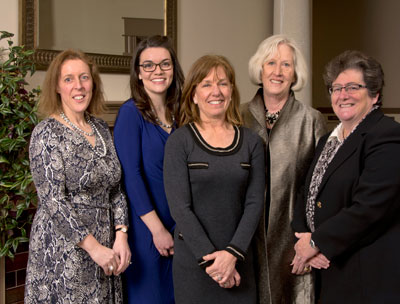 Keene State College's twenty-fourth annual Outstanding Women of New Hampshire awards recently celebrated four new awardees. The awards, which are given during National Women's History Month, honor New Hampshire women's character, courage and commitment. This year, the awards recognized Johanna DeBari, Keene State College senior and sociology major; Dr. Mary Ellen Fleeger, Director of Nursing at Keene State College; Dr. Mary Kelly, scholar in the field of Irish Studies in the Humanities division at Franklin Pierce University; and Marcia "Marty" Sink, founder and President/CEO of CASA NH (Court Appointed Special Advocates New Hampshire).
The Outstanding Women of New Hampshire event was sponsored by Campus Commission for Diversity, Equity & Inclusiveness, American Association of University Women – Keene Chapter, New Hampshire Women in Higher Education Leadership, National Women's History Project, Keene State College Women & Gender Studies Department, Keene State College Feminist Collective, and Keene State College Mentors in Violence Prevention.
Background on Awardees
When she was a first-year student, senior Johanna DeBari made an impression on her faculty and was granted permission to participate in the senior-level sociology capstone course titled Rwanda: Then and Now. After returning from the trip to Rwanda, she began to critically review the theoretical literature on post-genocide and reconciliation, and embed the topic into her discussions and written work. As a student, she is brilliant, engaged, and passionate. As a researcher and writer in her field, she is already making important contributions and her current work is of publishable quality. Her leadership is unique – she has developed a strong and clear voice committed to offering awareness and action in response to individual and societal trauma. She has shown an incredible capacity for dealing with her own experiences of adversity as well as helping others around her recognize their capacities for excellence and leadership. Her role as an active member of Mentors in Violence Prevention, including two years of advisory board service, is just one example of how she helps others. She is an outstanding member of the Keene State College community.
Dr. Mary Ellen Fleeger came to New Hampshire nearly a decade ago as Associate Vice Chancellor for Planning for the University System of New Hampshire (USNH). Her skills as a USNH administrator lead to the development of new programs, including fully accredited nursing programs at Keene State and Plymouth State University. The establishment of these programs is arguably one of the most significant contributions to economic success and professional mobility of women in New Hampshire this past decade. She plans to retire at the end of this academic year, for a second time. In 2013, when the Keene State nursing director unexpectedly resigned, she put aside her retirement plans and stepped in to lead the department. Ms. Fleeger assembled an outstanding team of professional nurses and educators who have transformed nursing education at Keene State. She has also used her talents to encourage under-represented students to enroll in post-secondary education and provide mentorship to at-risk high school students. In her various leadership roles, she has had a profound impact on the people of New Hampshire.
For more than 20 years, Dr. Mary Kelly has been an exemplary scholar in the field of Irish Studies in the Humanities division at Franklin Pierce University. She gives generously of her time to students. She has a reputation for being rigorous in her classroom, a good listener and she dispenses truth and tough love in equal measure. Mary continues to write; her second book was just published. She is a frequent speaker – she recently spoke about gender and history at Keene State through the American Association of University Women. She is a resident of Keene and a mother to a young child. She is also a mentor to her colleagues and students and a woman of character, courage and commitment. Most notably, she is a feminist activist and a staunch advocate for women's rights. She is a defender of young women in need; those who have experienced sexual assault, harassment, and domestic violence. She is committed to listen, and when necessary enter the fray; tackling the big issues with professionalism and kindheartedness. She is an asset to the Monadnock region.
Marcia "Marty" Sink works tirelessly to improve the lives of the children of New Hampshire. Twenty-five years ago she was a foster parent struggling to obtain needed services for her foster son. Seeing a problem, Marty set about to find a solution, and she is now the founder and President/CEO of CASA NH (Court Appointed Special Advocates New Hampshire). This non-profit organization recruits and trains volunteers to represent the best interests of abused and neglected children in court, and serve as guardians ad litem. Marty has grown the organization to serve 800 to 1,000 children annually. CASA employs 22 staff members who are spread among five regional offices including Keene. CASA has over 400 volunteers who serve as "the child's voice" in the court. Ms. Sink continues to serve as a leader, trainer, and advocate for child abuse in New Hampshire.
Related Stories