An Evening of Dance Premieres Several New Dances at KSC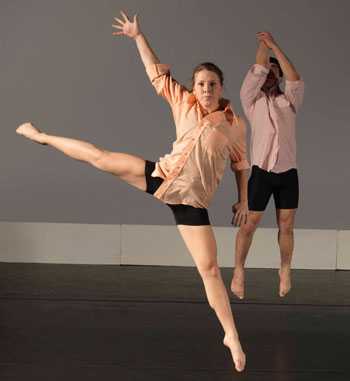 Keene State College Premieres New Works by New York-Based Modern Dance Choreographer And KSC Faculty in 'An Evening Of Dance'
A specially commissioned dance by New York choreographer Rebecca Stenn will premiere along with three new works by Keene State College faculty during An Evening of Dance presented by the Keene State Department of Theatre and Dance. Now in its 39th year, this annual modern dance concert will be performed by the talented and always engaging Keene State dancers on Wednesday, April 23 through Saturday, April 26, at 7:30 p.m. in the Main Theatre of the Redfern Arts Center. Tickets are $10 for the general public, $8 for senior citizens and children, and $6 for KSC students. For tickets, contact the Redfern Box Office at 603-358-2168 or visit www.keene.edu/racbp.
An Evening of Dance, directed by KSC Dance Program Director Marcia Murdock, offers eight new modern dance pieces that burst with the creative energy of Keene State's vibrant dance community.
This year's concert includes City, a premiere by 2013-14 Redfern Choreographer-in-Residence Rebecca Stenn who spent two weekends in November and January intensively investigating movement generated by the seven dancers in the cast. This choreographic whirlwind is danced to music by Herbie Hancock and Nine Inch Nails.
How Do you Pronounce Poulenc? is an ensemble modern dance work choreographed by Marcia Murdock and Dance Professor William Seigh featuring Music Professor and concert pianist Maura Glennon and fifteen dancers. The work asks: Are the dancers of this time? Are they of another era? Are we seeing memory? Or, is this the spontaneous creation of a musician's thoughts turned to dance? A pianist's creative mind dances as she ponders and plays the music of early 20th-century composer Francis Poulenc.
Senior Margaret Leary performs white horse, dark night, new morning choreographed by Dance Faculty Candice Salyers with music composed by Hildegard von Bingen. This dance explores one woman's journey through the landscape of her heart and the ways in which those internal terrains also manifest in external space.
Dance faculty Cynthia McLaughlin's Tooth and Nail draws the audience through a world of wondrous physicality. Performers challenge the edges of space and time in a stylized and visceral swirl of forces. Within and without, the 10 dancers balance the battle of human and animal nature.
Slight Displacement choreographed by senior Alexander Davis is a theatrical modern dance work about taking the next step forward. Four dancers perform to the music of American singer/songwriter Daniel Johnston, as they journey through the past in order to search for rooted strength and real security.
In December Mourning choreographed by junior Meghan Quinn five dancers struggle through an emotional journey together. The experience of moving on and looking back allows the dancers to help each other through their doubts and instability.
Senior Gabriella Pacheco's Where Empty Fills is a sextet analyzing the resistance to both intimate and platonic relationships in urban settings. The piece considers society's active blindness with open eyes.
It Has to Happen is a modern dance quartet exploring the physical action of peeling an orange. Choreographer Michelle Hayes, a senior, makes the connection between revealing the fruit's true essence with self-actualization.
About the Theatre and Dance Department
The Department of Theatre and Dance is dedicated to providing a comprehensive course of study that balances theory and practice within a sound liberal arts education. The collaborative nature of theatre and dance disciplines fosters an atmosphere in which students work closely with peers and faculty to gain practical experience in all facets of production and critical engagement. As artists and teachers, our primary focus is to encourage and guide our students as they find their creative voices and experience and question the world through the arts. For more information about the Theatre and Dance Department, visit http://academics.keene.edu/tad or call 603-358-2162.
Related Stories