Redfern Arts Center announces exciting 2014-15 Season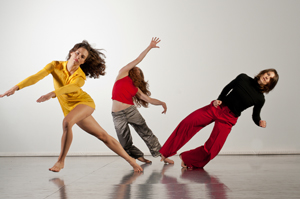 Line-Up includes a Spanish Orchestra salsa celebration, a Halloween showing of Phantom of the Opera with live music, a tribute concert to Bob Dylan, and much more
Keene State College's Redfern Arts Center announces an exciting 2014-15 season of diverse performances such as a hot salsa fete with the Spanish Harlem Orchestra, a Halloween screening of the classic silent film Phantom of the Opera with live music, and a special tribute concert to Bob Dylan.
The new season, which runs from September 2014 to April 2015, explores a variety of subjects ranging from Double Edge Theatre's family circus parade through 20th century history, to a collaborative dance work by Robert Moses' Kin company that looks at American liberation movements, to the British ensemble Voice singing a concert of love-inspired music. Other highlights that are sure to engage and entertain include the return of choreographer Adele Myers with a new dance based on Einstein's happiest thought, and a multi-media work in which performer Miwa Matreyek moves within a video-projected world. The season also includes the participatory theatrical work City Council Meeting which invites the audience to act as Mayor, council members, and concerned citizens. There's also a one-person show Dogs of Rwanda about a missionary who can't forget his experiences in that country.
"This season the Redfern Arts Center continues to bring to the Monadnock Region cutting-edge contemporary dance, music, theatre, and film that range from whimsical to thought-provoking," said Redfern Director Shannon Mayers. "The season showcases the creativity of a variety of performing artists and the unique ways they are engaging today's audiences."
Experiencing the arts is not just about attending a performance. Throughout the season the Redfern engages audiences with numerous free activities and connections with our visiting artists that enhance the experience of live performance, ranging from workshops with the artists, pre- and post-show discussions, lobby receptions, and art exhibits.
Season tickets will go on sale Monday, August 4, at the Redfern Box Office, and can be purchased by phone, 603-358-2168, or online at www.keene.edu/racbp.
The Redfern's 2014-15 season comprises ten performances and begins with a Season Kick-off Party.
Redfern Season Kick-off Party (Wednesday, September 10, 4:30 p.m., Alumni Recital Hall). Learn more about all of the Redfern's exciting offerings and get a preview of season highlights including video and live performances by visiting artists and members of KSC's Departments of Music, and Theatre and Dance. The festivities begin with a catered reception in the Redfern lobby followed by the performances in the Recital Hall. Admission is free.
Spanish Harlem Orchestra, Friday, September 26, 7:30 p.m. in the Main Theatre. Get ready to salsa! Making their Keene debut, Grammy Award-winning Spanish Harlem Orchestra has established itself as a standard bearer of contemporary Latin music. This thirteen-member all-star ensemble has reintroduced the classic sounds of New York City Salsa and Latin Jazz to music lovers worldwide.
Einstein's Happiest Thought, Wednesday, October 8, 7:30 p.m. in the Main Theatre. With Einstein's "happiest thought" as inspiration, acclaimed choreographer Adele Myers' newest work folds dance, film, music and scripted performance into a seamless expression of the charged state of imbalance and anticipation of risk. Come join a merry group of "Einsteins" and Adele Myers' award-winning company.
City Council Meeting, Wednesday, October 29, 7 p.m. at Heberton Hall, Keene Public Library. Created in a yearlong residency in Keene, City Council Meeting is performed participatory democracy, local government filtered through the lens of art, and performed by the audience. For one night, you can be the Mayor, a council member or simply an audience member. Come and be a part of live democracy in action.
Phantom of The Opera performed live by Alloy Orchestra, Friday, October 31, 7:30 p.m. in the Main Theatre. Alloy Orchestra returns on Halloween with a brand new print of one of the scariest and most influential horror films of all time. Called by film critic Roger Ebert, "the best in the world at accompanying silent films," Alloy Orchestra is a three-man musical ensemble, writing and performing live accompaniment to classic silent films for over 20 years. Come in costume and be prepared to be spooked!
The Basement Tapes Project: Bob Dylan and the American Songbook, Wednesday, November 5, 7:30 p.m. in the Alumni Recital Hall. Conceived by critically-acclaimed musician Howard Fishman, The Basement Tapes Project explores the mysterious underground recordings made by Bob Dylan and The Band in 1967. Performing songs that have never been officially made public, The Basement Tapes Project presents a special insight into the life of one of America's most influential artists.
Voice: If Music Be The Food Of Love with Special Guests, Wednesday February 4, 7:30 p.m. in the Alumni Recital Hall. Celebrate the coming of Valentine's Day with the wonderful British ensemble Voice, sharing songs of beauty, heartache and the humor of love. In their limited U.S. tour, Voice shares the idea that love, in all its forms, has inspired human beings for centuries. Special appearances by the KSC Concert Singers and choreographer Candice Salyers.
Dogs Of Rwanda by Sean Christopher Lewis, Wednesday, February 11, 7:30 p.m. in the Alumni Recital Hall. Based on interviews Iowa City playwright and actor Sean Christopher Lewis did in Rwanda, this riveting and intimate performance focuses on David, a man who can't forget what he saw as a young missionary in Rwanda 20 years ago. Co-presented with the Cohen Center for Holocaust and Genocide Studies and the KSC Office of Diversity and Multiculturalism.
The Grand Parade (of the 20th Century) created by Double Edge Theatre, Wednesday, February 18, 7 p.m. in the Main Theatre. Immerse yourself in the unpredictable and imaginative world of acclaimed theater troupe Double Edge Theatre. Inspired by artists Marc Chagall, The Grand Parade is an original world-premiere event that fuses physically daring spectacle with evocative music to create a thrilling, kaleidoscopic exploration of the 20th century for the whole family!
Nevabawarldapece created and performed by Robert Moses' Kin dance company, Wednesday, March 25, 7:30 p.m. in the Main Theatre. A New England premiere, Nevabawarldapece is a major collaborative project among Artistic Director Robert Moses, Obie and Bessie award-winning writer and performer Carl Hancock Rux, and Afro-Celtic, Folk-Funk, Hip-Appalachian vocalist Laura Love. This stirring piece explores critical moments of change in America's liberation movements, protests, insurrections, and revolts, from John Brown to today's populist Occupy movement.
This World Made Itself created and performed by Miwa Matreyek, Wednesday, April 8, 7:30 p.m. in the Alumni Recital Hall. This World Made Itself combines projected animation and the artist's own shadow silhouette as she interacts with the fantastical world of the video. This World Made Itself is a visually and musically-rich journey through the history of the earth, from the universe's epic beginnings to the complex world of humans. The piece is at once semi-scientific and emotional and dream-like rich in surrealism, metaphor, and fantasy.
About Redfern Arts Center at Keene State College
The Arts Center is named in honor of Dr. Leo F. Redfern, Keene State College President from 1969 to 1979 for his vision, commitment, and eloquence on behalf of the arts that made funding and construction of the facility a reality. In 1981, KSC inaugurated this new performing arts center, with the goal of providing unforgettable artistic encounters for the campus and community. Since then, the Redfern stage has hosted hundreds of amazing shows, from internationally renowned artists to emerging young talents to KSC's own student performers. Over the years, the Redfern has expanded its outreach programs, curricular and community partnerships, becoming an indispensable resource for the Keene community and beyond.
Related Stories