Forrest Seymour To Receive New Hampshire Visionary Voice Award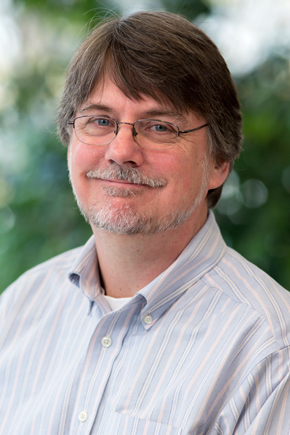 A staff counselor and the coordinator of sexual violence education and prevention at Keene State College, Forrest Seymour is the recipient of the New Hampshire Visionary Voice Award.
Presented to just one individual in each state, the award, offered in conjunction with Sexual Assault Awareness Month each April, recognizes the creativity and hard work of individuals around the country who have demonstrated outstanding advocacy and community work to end or prevent sexual violence. Seymour, who was nominated for the honor by off-campus partner, the Monadnock Center for Violence Prevention, will be presented with the award at the Victims' Rights Day press conference, which will be held April 8, 2014, at 11 a.m. in Concord.
Seymour, who is being recognized for his outstanding efforts in sexual violence prevention at Keene State and in the surrounding community, said he is surprised and flattered to receive the honor. "To me it is gratifying because it illustrates the strong connection that we built between Keene State and our local and state-wide partners in sexual violence prevention, said Seymour, a native of Bloomington, Minn., who has worked at KSC since 2006. Knowing Keene State is on the radar in New Hampshire and nationally for this work "means we are succeeding," he said.
"Forrest is very deserving of the award," said Brian Quigley, director of the KSC Counseling Center. "He's so committed to the work he does on this campus surrounding sexual and relationship violence prevention. What he's accomplished on our campus by creating a program and a set of initiatives would be impressive for any institution."
While Seymour's name is on the award, he's quick to recognize the many students who take part in the college's strong effort to bring sexual violence prevention to the forefront on the KSC campus. "I think Keene State in some ways has been on the cutting edge –particularly for a school this size – for sexual violence prevention for quite some time," said Seymour, a 1990 KSC grad who holds a master of social work from the University of New Hampshire. "We've been able to implement some programs here in a more effective way than a lot of other schools our size."
Throughout the year, Seymour organizes numerous events to create awareness of the problem, including a strong peer education program, Mentors in Violence Protection (MVP). Started in 2003, MVP is comprised of energetic and motivated students who are committed to raising awareness at Keene State about issues related to sexual violence and harassment. He also coordinates KSC's Walk a Mile in Her Shoes event, an opportunity for men to raise awareness in their community about rape, sexual assault, and gender violence. During orientation, Seymour also oversees a theatre-based program called "No Zebras, No Excuses," a dramatic and powerful set of skits performed by students that emphasizes the role of bystanders in intervention and bringing attention to the issue through non-violent solutions.
"Because sexual violence and rape is the most under-reported crime, it's hard to cite any statistics, so we really don't have hard data on whether there are more or less sexual assaults on college campuses," said Seymour. "We want more students comfortable and coming forward and saying, This happened to me."
"Forrest involves students so that they are learning and gaining skills that they go out and use the rest of their lives. And it really fits in with the mission of Keene State. We are creating global citizens," said Mona Anderson, assistant director of the KSC Counseling Center. "I hear from students who were in MVP and they say how much they use it and how much it still means to them. He empowers students to take action and empowers students to learn."
Seymour hopes to bring several Keene State students with him to Concord next month when he receives his award. "Not only are they doing most of the work, but they inspire me," he said. "They raise the bar for me and I have to live up to their expectations."
"The students are why we do good work at Keene State. I think this generation of students has a strong sense of civic responsibility," Seymour added. "You give them the opportunity to make a difference and many students, including those students you might not expect, will step up."
Related Stories