Molly Brewer '11 Recognized as Promising Practitioner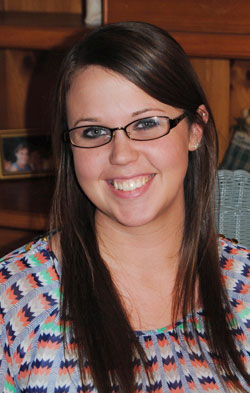 Molly Brewer 11's excellence in her classroom has earned her the New England League of Middle Schools' designation as a Promising Practitioner/ Brewer, who teaches Spanish at the Medomak Middle School in Waldoboro, ME will be honored at the Leagues' 33rd Annual Conference in Providence, RI, March 31–April 1. This annual award is based on the recommendations of teachers, parents, and administrators and is designed to "honor excellent teachers who are beginning their teaching careers and who are effective middle-level educators that provide powerful learning for their young adolescent students."
Brewer came to Medomak Middle School in the summer of 2012 as the new Spanish teacher. "I walked into my classroom to find nothing in front of me but a couple of Sharpies, which happened to have been left in my desk, and four tables with folding chairs," she recalled. "I had to create my entire curriculum from scratch, and with very little materials. In some ways, this was a blessing. I did not have to try and follow in a previous teacher's footsteps, or try and tweak textbook lessons to make them my own. Needless to say, it was a very long first trimester, but I wouldn't have changed it for anything."
Obviously, she arose to the challenge—but she was well trained. "Keene State College prepared me exceptionally well for my position. I was exposed to different grade levels throughout my methods and student teaching, which taught me how to deal with and respond to many different types of situations. The experience I gained from writing hundreds of lengthy lesson plans and creating units from scratch definitely came to use when I was given the task of creating the Spanish curriculum for my school."
Congratulations, Molly. Well done!
Related Stories