Judge Whalen Brings a Wealth of International Experience to KSC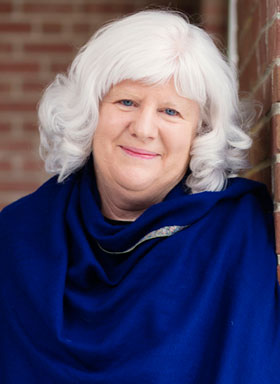 Judge Patricia Whalen has spent most of her professional life seeking justice for victims of those who abuse their power. Currently, she serves as a special advisor to the War Crimes Chamber at the Court of Bosnia and Herzegovina, and from 2007 through 2012, she was an international judge of the country's War Crimes Chamber—the busiest war crimes court in the world. This semester, she's teaching a class in International Law and Genocide here at Keene State, and 24 fortunate students are learning from her vast experience and knowledge.
Her advocacy started back in the 1970s, when Judge Whalen, her husband, and baby moved to Vermont, where she befriended a neighbor with an abusive husband. When the neighbor became pregnant, her husband beat her so badly she lost the child. While she was with the neighbor at the hospital, the husband shot himself in the foot, and his wife got off her gurney to take care of him. "That one night taught me everything I needed to know about domestic violence," Judge Whalen recalled.
Shortly after that incident, she entered Vermont Law School to gain the legal skills to fight domestic violence. When she graduated, she took a job at Vermont Legal Aid, though friends advised her that was a dead end for her fledgling career. Undaunted, she used her new position to help create a statewide domestic violence network that caught the attention of Governor Madeline Kunin, who appointed her magistrate in Vermont's new Family Court system in 1990, settling child-support disputes.
Soon after, Judge Whalen attended an organizational meeting of the International Association of Women Judges (IAWJ). As an active member of that group, she spoke on family law at international conferences, and even organized the Afghan Women Judges Judicial Education Project to bring women jurists from Afghanistan to visit Vermont and Washington, D.C., so they can see firsthand the workings of an orderly, independent judicial system.
In 2002 she was asked to help draft The Hague Convention on the International Recovery of Child Support and Other Forms of Family Maintenance, an international treaty. Judge Whalen immersed herself in international law and spent time in The Hague. By 2007, her visibility and mastery at bringing civil and adversarial systems of law into harmony had reached the point where she was selected as a justice for the war crimes court in Bosnia and Herzegovina.
In 2012, Associate Professor of Sociology Brian Green took a group of Honors students to Bosnia and Herzegovina and arranged for them to visit the War Crimes Chamber. Usually only graduate students from law school or programs studying conflict dispute or court systems visit this court, but Judge Whalen was happy to meet this group of undergraduates from near her Vermont home. "They had visited a conflict-reconciliation program in northern Bosnia," she recalled. "Because they had that experience, and had gotten to know people in the village, they understood how the war had affected the villagers, and they could see the problems that arise when people who were fighting need to live together again. They were very sharp kids and I enjoyed them. I invited them back to my house for an evening. I was very impressed." And at her home that evening Judge Whalen learned about Keene's Holocaust and Genocide Studies program.
When she got back to the US, Dr. Green contacted her to ask if she'd be interested in teaching in the Holocaust and Genocide and Criminal Justice programs. She met the HGS faculty and found that they were looking for someone who could clarify the legal issues around the issues they study.
As a result, Judge Whalen is teaching her course on International Law and Genocide this semester, bringing a new perspective to HGS. "I come from a completely different background than the other faculty members in HGS," she explained. "The program primarily focuses on prevention and understanding why perpetrators do what they do. Judges, on the other hand, are concerned about fair trials, and prosecutors are concerned with stopping perpetrators. The law focuses on evidence, evidence, evidence and doesn't really care about why. The fact that Hitler may have been a failed artist is irrelevant in the eyes of the law."
"She brings a very different lens to the study of genocide," said Professor of Holocaust and Genocide Studies Paul Vincent. "We agonize over what leads people to commit atrocity, but she doesn't concern herself with why a perpetrator did what he or she did — the judicial system just cares about whether they can be prosecuted under the law."
"We're very fortunate to have her here; you'd expect someone with her background to be teaching a course in international law at Harvard or Yale," noted Cohen Professor of Holocaust and Genocide Studies James Waller.
Her students are finding her enthusiasm and her fresh approach very engaging. "Each week, Judge Whalen has students post news articles online, and then we discuss how they relate to the field of international law," said senior and HGS major Chloe Nixon. "This is helping us understand how the law affects far more than we see, and it gives us an opportunity to use the terms and statutes she is teaching us. This is a skill that is helping me see the world in a new way. … The best part of her class is how she is able to enhance concepts or legal definitions with real-life examples from her work as a judge."
"Judge Whalen's course has been an amazing experience," explained senior and HGS major Johanna DeBari. "She has so much experience she is willing to share with us … She is clever and funny, which makes the classroom experience all the more enjoyable. I am doing a research project on the implications of a case coming out of the International Criminal Tribunal for Rwanda for the prosecution of rape as a tool of genocide, and she allowed me the opportunity to present my research to my class as a part of our curriculum. She makes this course a beneficial experience for all of us."
The legal issues in genocide and war crimes prosecution are involved and convoluted, as are the reasons why some people are brought to justice and some are not. "My students need to understand how complex the issues are," explained Judge Whalen. "A lot of people react by simply asking, 'Why doesn't the law do something about this?' But now the students are learning that there are no simple solutions—it's very complicated."
"Her class is certainly broadening my perspective of the legal world; I've never been exposed to international law in so much depth," said DeBari. "The assignments require us to form thoughtful opinions, so we are increasing our skills as critical learners."
"This has been my first exposure to law, and I am finding it really interesting and exciting," Nixon said. "Judge Whalen has shown us that law is always changing and that international law in particular is a fast-growing and fast-paced field. Because of her passion and interest, I am developing an interest in a career in law."
And stimulating her students' interest in the law should have an impact on curbing genocide and mass atrocity in the future. "International law is something that tomorrow's legal professionals will have to develop," Judge Whalen explained. "It's just in the toddler stage now, if you think of the Nuremberg trials as giving birth to something. These current students are the ones who are going to see it through to a more developed stage. … The 21st century already is starting out as a very aggressive and unsettled time. And the world is smaller; its citizens—at least theoretically—are looking at global solutions to everything, from telephones to law. So [our current students] will be on the cutting edge of all of this."
And Judge Whalen is certainly preparing her students for that cutting edge. "I want them to understand that you really can fight mass atrocity, and that there are a lot of ways of doing that."
Related Stories