Pakistani Chemistry Student Yasha Butt Wins Grant to Study at KSC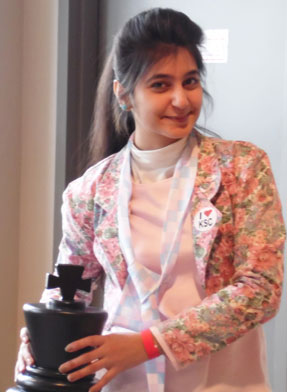 Yasha Nezier Butt, a student from Pakistan, is studying chemistry here on campus this semester, thanks to a $10,892 grant that Skye Stephenson, director of the Global Education Office (GEO), secured from the US Department of State's Bureau of Educational and Cultural Affairs, administered by IREX. Over 5,000 applicants applied for this opportunity, but only 140 were chosen.
"The program is very interesting in many ways, because it is an opportunity for cross-cultural experience," Yasha explained.
"The idea of the program is to promote understanding and friendship between Pakistan and US youth," said Dr. Stephenson. "We thought it would be great to expand the international outreach and bring Yasha to campus, so other people can have more contact with folks from Pakistan."
Yasha wanted to take part in this program to see how students study biotechnology in the US. She sees it as an opportunity to visit different labs and see the kinds of experiments other students are working on. "Biotechnology is a subject in which you carry out your own research, but in order to gain more knowledge you need to communicate with other researchers," she said.
Here at Keene State Yasha serves as a cultural ambassador. "I want to give people the true depiction of Pakistan," she said. Her experiences at Keene State have taught her the value of community service, and she wants to creating service organizations to benefit the people in her country.
She expected to undergo considerable culture shock when she arrived in America, but she has found everyone to be very kind and compassionate. The professors are always willing to help and their guide students, she reports.
Related Stories