College Baseball: Owls Give Howe 500th Career Win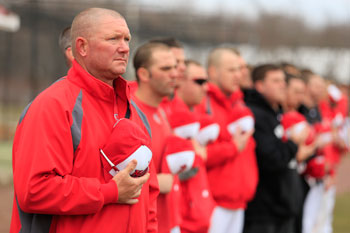 College Baseball: Owls Give Howe 500th Career win with 15-5 victory over Fitchburg State
The Keene State College baseball team took the field against Fitchburg State University on Thursday at Owl Athletic Complex with a couple of things on its to-do list. The Owls were not only being looking to pick up their 14th win of the season but also get Ken Howe his 500th career coaching victory. Mission accomplished.
The Owls made sure Coach Ken Howe would get his 500th career victory, pounding out 13 hits on the way to posting a 15-5 non-conference win over Fitchburg State University at Owl Athletic Complex on Thursday.
Now in his 27th season, Howe improves his career record to 500-470-9, joining an illustrious group of 34 active Division III baseball coaches who have won 500 or more games during their careers.
Asked what the 500 wins mean to him, Howe replied, "It means I'm old. I've been here awhile. There are a lot of loses that go with those 500 wins, but it's been a dream of mine to be doing this. I'm very lucky to be a Keene kid and have the opportunity to do this in my hometown."
A freshman member on the team, son Dustin Howe, got into the game and was able to be a part of his father's milestone win. "It means the world to him. He loves this game," said Dustin Howe, a reserve first baseman with the Owls. "Keene State is like another home to him. Hopefully he'll get his 600th while I'm here."
The son of former Owl standout John Luopa, who witnessed Howe's first win in 1987, Tanner Luopa (Keene, N.H.) ironically, got to be a part of Howe's 500th victory. "It's pretty cool," said Luopa, who started in left field for the Owls. "My dad has some stories about Coach Howe and now I'm living my own. It was a great win today. We wanted to get this one for Coach Howe."
Returning to the Keene State dugout for his 27th season, Howe has seen a seismic shift in the program since he, along with then co-coach John Scheinman, resurrected the dormant team for the start of the 1987 season. No one would have predicted that the one-time part-time, two-month temporary coach could overcome the multiple curve balls along the way and join an illustrious group of 34 active Division III baseball coaches who have won 500 or more games during their careers. While it might pale to fellow Little East Coach Bill Holowaty, whose stratospheric record reached 1,400 wins last Monday, or Southern Maine's Ed Flaherty, who eclipsed the 800 win milestone earlier this season, Howe's 500 wins is nothing to sneeze at. As Bobby Doyon, a two-time All-American for the Owls, pointed out, "That's a lot of wins." Howe began his KSC coaching career like a Robert Half temp, filling in first with the baseball team in 1987 and a year later taking over the College's highly–successful women's soccer team between regimes of Dave Lombardo and Bert Poirer.
When Pete Michel couldn't answer the call in the spring after coaching the Owls' during the fall baseball season, Howe and Scheinman threw their cap into the on-deck circle as possible replacements for the two-month gig. Both coaches had their supporters on each side of the base path. Then basketball coach Don Kelbick threw his support behind Scheinman, while long-time men's soccer coach Ron Butcher backed Howe for the job. "Joanne Fortunato, who was the director of athletics at the time, asked me to be the coach, but I didn't know enough about the sport," said Scheinman, now working in the Development Office at Plymouth State. He had an opportunity to see Howe's first win and his 499th victory on Tuesday against the Panthers. "So I said, 'Why don't we co-coach?' Who knew two months would turn into 27 seasons?"
Howe's ascension into the higher echelon of baseball coaches in the country is a local-boy-makes-good story. A former hard-hitting outfielder for the Keene High Blackbirds, Howe played two collegiate seasons at the University of Central Florida. After a career-ending injury, He returned to Keene, where he received his degree in business management from KSC. With no baseball team to join, Howe hit the nets, playing the 1985 season in goal for Butcher's soccer team before beginning his coaching career as an assistant a year later on Lombardo's staff.
Thrown to the wolves, the coaching duo of Scheinman and Howe had their gloves full getting their start-up team to be competitive in the New England Collegiate Conference, one of the top Division II baseball leagues in the country. "We played Quinnipiac in the first game of a doubleheader and lost 33-2," Scheinman recalls. "It was some tough going, but you establish yourself and build."
Although the Owls took their lumps, Howe, who took over as the teams' lone coach in 1990, saw progress. The Owls fed off the energy of their young coach. "Kenny was obviously a young coach – not that he's old now – who had a lot of knowledge about the game of baseball," said John Luopa, one of the teams' first prominent players during the Division II era who would hit his way in to the KSC Hall of Fame. "He had some good experience himself playing, so the guys respected what he said. He brought a lot of structure to the program." Eventually beating conference heavy-weights like Sacred Heart and New Haven, Keene State made its first post-season appearance in 1996 when they parlayed a 23-16 record into an ECAC tournament berth.
Baseball nomads, who initially played their home games at Keene High's Alumni and Memorial Fields, the Owls moved into a permanent home at Owl Athletic Complex in 1991 and a new conference in the spring of 1998.
Joining the Keene State coaching staff as an assistant after wrapping up his four-year Owl pitching career, Marty Testo has witnessed some subtle changes in Howe over the years. "I like to give him a hard time. Kenny used to be a grumpy, mean old bear. Now he's a lot nicer to deal with," said Testo, who was elevated to associate head coach in 2008. "Back then it was hard for him. He was part-time and wasn't around all the time. The program has flourished with him being around. I like to joke with him and say you're getting soft in your old age." Division III and the Little East Conference has been very good for the Keene State College baseball program. Since joining the LEC in 1998, the Owls have posted six 20-plus-win seasons and four 30-plus victory campaigns, including 2008 when they shattered the school record with 34 victories on the way to capturing their first LEC championship and earning their second-straight NCAA tournament berth. Consistently ranked in the region, KSC has made four trips to the NCAA tournament in the past six seasons, including last spring when the team received an at-large bid.
"It was great playing for him," said Doyon. "He understood when it was time to have fun and when it was time to bear down and be focused. Coming into a game, he made us feel like we could compete with anybody."
While longevity and success on the field has been nice, it's only been part of the game for Howe. "I am motivated by seeing players come to Keene State, grow intellectually and physically, and be ready to tackle life when they leave," said Howe, who has sent numerous of his players into the coaching ranks. "I hope what they learn from me in baseball is a big part of that maturing process."
"I think his satisfaction and what keeps him coming to the office and the field every day is the kids," said Testo. "I heard him say a long time ago that he has a very understanding wife. He has two boys at home and 45 boys here. He treats our players like they're our sons. He looks after them on the field and off the field, in the classroom."
Although the gratitude might not come from his players until after they graduate, Testo says it means more to Howe than any win. "Those things mean more to him than his 500th win will. I can tell you that right now," said Testo. "Kenny is a pretty humble guy. He's not about himself at all. He always puts the team first. You can decorate him with the most prestigious individual awards and that's never going to replace his passion to get to the World Series and try to win the big one."