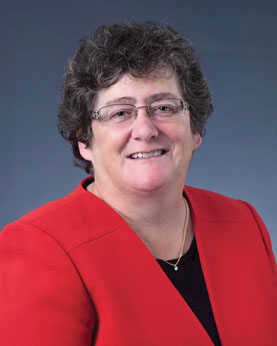 New President Selected by Trustees and Campus Community Brings 23 Years of Academic Leadership to College
Keene State College proudly announces its tenth president, Dr. Anne E. Huot. Dr. Huot brings 23 years of academic leadership to her post as Keene State College President. For the past six years, she served as provost and vice president for academic affairs at The College at Brockport, State University of New York. In this role, Dr. Huot has provided leadership and vision in the areas of academics, campus climate, strategic planning, and community and business relations. Dr. Huot will begin to serve as Keene State College President on July 1, 2013.
"It is a privilege to serve as the tenth president of Keene State College. New Hampshire is my home and the opportunity to further establish Keene State College as a preeminent public liberal arts college is both humbling and exciting. Access to a high quality education remains critical to preparing graduates for active engagement with their communities and for success in an increasingly complex world," said Dr. Huot. "Keene State's academic excellence today is based on a rich history. With an outstanding faculty and staff that are supported by an engaged community, and a strong foundation, Keene State College will continue to thrive and grow. I am deeply grateful to the USNH Board of Trustees and the search committee for this honor."
Highlights of Dr. Huot's accomplishments at The College at Brockport include:
Positioning the Academic Affairs Division to accent core academic strengths.
Cultivating active and successful recruitment of philanthropic gifts to support faculty, students and programs.
Establishing a School of Business and Graduate School.
Developing the Office for Diversity, which led to the college's award from Insight into Diversity magazine.
Revising the general education program for the purpose of intentionality and interdisciplinary teaching and learning.
Redefining assessment of student learning as well as the system for assessing institutional effectiveness.
Providing leadership for a refocused vision and strategic planning effort for the college, including facilities rehabilitation and design.
Cultivating strong relationships with community and business leaders.
Dr. Huot was chosen from a large pool of qualified candidates. George Epstein, University System of New Hampshire Trustee, and chair of the search committee, said "Dr. Anne Huot's commitment to the value of a liberal arts education, her vision and ever-growing success as an academic leader, and her New Hampshire roots, all with outstanding references from colleagues from throughout her career, matched extremely well with our priorities for the president. Dr. Huot then came to campus and connected warmly with students, faculty, staff and community members – it was then that we knew we had Keene State's next leader."
"Keene State College is an important resource for New Hampshire and the region – the college plays a key role in our economy and the social mobility of our residents. Choosing the right person to lead Keene State is critical to ensuring that the college continues to promote the health and wellbeing of our State moving forward," said Todd Leach, University System of New Hampshire Interim Chancellor. "Dr. Huot possesses the right match of skills, competencies, and experience to lead Keene State in this highly turbulent period in American higher education, and she brings a passion for the mission of the college. She has immense energy that will continue Keene State's proud legacy of providing public access to a high quality transformative education, and a spirit of innovation that will help in responding to the emerging challenges of today's competitive environment."
From 2003 to 2007, Dr. Huot served as associate provost then executive vice provost and head of the Office of Academic Affairs at the State University of New York-System Administration in Albany. Dr. Huot served as interim dean, then executive dean of the Graduate College at the University of Vermont from 1999 to 2003. After completing her PhD in 1990, Dr. Huot joined the faculty at the University of Vermont and later, in 2004, the College of Health Related Professions at Upstate Medical University, State University of New York. Dr. Huot is highly regarded for her commitment to excellence in teaching. She has written and presented extensively on her research concerning the influence of nitric oxide on cellular response modification.
Dr. Huot earned a BS in Medical Technology at the University of New Hampshire, an MS in Medical Technology at the University of Vermont, and a PhD in Cell and Molecular Biology at the University of Vermont.
Related Stories