Keene State to Host Science Conference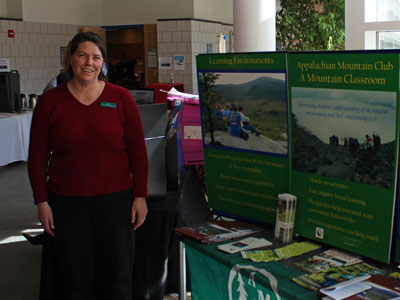 NH Science Teachers' Association Conference Shares Latest Knowledge on Science and How It Affects Us Today
Keene State College is set to host the spring New Hampshire Science Teachers' Association Conference on the college's campus. The event draws hundreds of science educators and is open to anyone who is interested in learning more about topics in science that affect us today. Issues such as climate change, weather forecasting, water usage, the chemistry of cooking and many others will be explored through workshops. A luncheon in Zorn Dining Commons is included in the program.
When and where:
Putnam Science Center, Keene State College
Sunday, March 10, 2013, 9 a.m. – 4:30 p.m.
4:30 p.m. – 5:20 p.m., reception
6:00 p.m. – 7:00 p.m., dinner 7:00 p.m. – 8:00 p.m., Featured Speaker, Marcia Bartusiak: The Day We Found the Universe: Turning Bare Facts into a Gripping Scientrific Story
Monday, March 11, 2013, 7 a.m. – 2:20 p.m.
8:00 a.m. – 1:20 p.m., science workshops
1:20 p.m. – 2:20 p.m., Luncheon
Registration:
To register, visit the NH Science Teachers Association.
Cost of registration for Sunday only, $175 for Members, $225 for Non-Members; Monday only, $200 for Members, $250 for Non-Members; Both days, $250 for Members, $300 for Non-Members
The conference is co-sponsored by the New Hampshire Science Teachers' Association, The School of Science and Social Sciences, and the Provost's Office at Keene State College. For additional information about the conference, including the schedule, visit NHSTA connference information.
For answers to questions, contact Professor Sally Jean, at sjean@keene.edu or 603-358-2572.