Energy Efficiency Investments Result in $150,000 Payback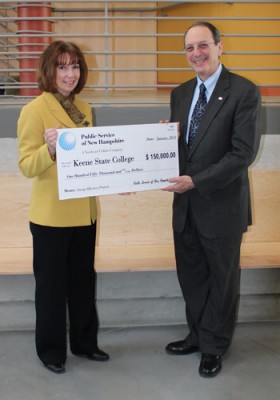 Keene State College Energy Efficiency Investments Begin to Pay Off
Public Service of New Hampshire Issues $150,000 Back to College
Keene State College reports that $150,000 has been received from Public Service of New Hampshire (PSNH) in association with The New Equipment & Construction Rebate Program for building systems equipment installed in the new Technology, Design and Safety (TDS) Center, which opened in October of 2012. This is one example of how sustainability is being infused into every aspect of the Keene State College community, from recycling to the use of natural cleaners, to efforts to achieve energy efficiency.
"I would like to thank Public Service of New Hampshire for encouraging energy saving projects by rewarding businesses for achieving efficiencies. These programs ultimately benefit the state's economy and environment," said Keene State College Interim President, Jay Kahn. "Keene State College prioritizes efficiency and sustainability in plans for new facilities and for retrofitting operating efficiencies into existing facilities. It is important for an educational institution to model energy saving practices to students who enter the workplace with values to economize energy use and cost. The TDS Center is not only a model for effective teaching, it is an outstanding example of our commitment to sustainability."
Rebates from PSNH provide incentives for additional investments in energy savings technologies, and they reward investments that provide recurring financial and energy savings. Keene State's efficiency rebate is a result of the heating, ventilation, lighting, and air conditioning systems that were chosen for the TDS Center. All of the equipment that was chosen for the building, which houses significant equipment investments for students studying Sustainable Product Design and Innovation, Architecture and Safety and Occupational Health Applied Sciences, was made to bring the building to the highest standards for energy efficiency in new construction. The TDS Center is designed to qualify for LEED Platinum certification.