Israeli Swimmer Resman Joins Keene State Team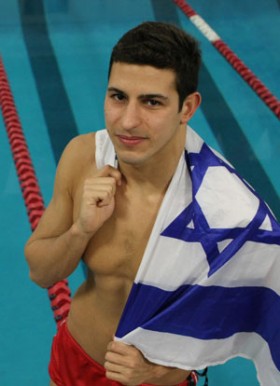 Arriving at Keene State College from his homeland of Israel just a month ago, Shahar Resman had the usual trepidations of any freshman joining an athletic team. Will I fit in? Will I make an impact?
The first question was answered rather quickly when several of his soon-to-be teammates showed up to greet him on his arrival at Logan Airport in Boston and later helped him move into his dorm at the College.
The second question took a little longer to be answered. While Resman competed in several end-of-the-season dual meets, including impressive wins over Conn. College and Bentley University, the key test came at last weekend's New England Intercollegiate Swimming and Diving Association (NEISDA) championship at the Upper Valley Aquatics Center in White River Junction, VT.
Although he certainly made his mark by winning the 1,000 freestyle race and placing a strong second to teammate Drew Ledwith with an NCAA Championship B cut qualifying time in the 500 free, Resman was apprehensive as he adjusted his goggles and prepared to swim his leg of the 4 x 800 relay late Saturday night. "I was shaking and really scared before this race, because it meant so much for the team," Resman admitted. "There was a lot of pressure. I knew I had to swim fast."
Resman didn't let his team down, teaming up with juniors Jared Hyde and Ledwith and fellow freshman Cole Hogg to win the event with a NCAA A cut qualifying and meet record time of 6:40.59. Not only was it the first NCAA A cut ever achieved by a KSC relay team, but the third-best Division III time in the country, stamping the squad's ticket to next month's national meet in Shenandoah, Texas.
If he didn't know it already, Resman had answered the second question with an emphatic "Yes!" "It was great. Everyone was cheering and yelling our names," Resman said. "I will remember this memory my entire life."
Born in Batyam, Israel, Resman moved to Ashdod at the age of five. Living 25 km from Gaza, Resman grew up with the daily reminder of Israel's precarious position in the region. In mid-November, when the Israeli and Palestine conflict escalated again, bombs and alarms echoed continuously in the streets. "It was very scary," said Resman. "There are days you can't go out, because you don't know what's happening."
Despite the tension of living in the volatile area and the never-ending threat of war, Resman enjoyed growing up in Israel and began his pool pursuit. But high school teams are non-existent in Israel, so aspiring swimmers like Resman join local clubs to see if they have what it takes to advance in the sport. Resman's indoctrination came from a local club coach from Russia. "You learn early who's in charge," said Resman. "If he said something, I did it, because he is the king and I am the soldier."
The discipline, coupled with his increasing proficiency in the pool, proved to be a valuable tool for Resman, who went on to earn a spot on his country's open-water national team. Competing in the World Cup Open Water Circuit, Resman traveled throughout Europe and South America. One of his events took him to his parent's home land of Argentina.
Like the majority of Keene State College coaches, Jack Fabian cast his net predominantly around New England to reel in the majority of his recruits for his Owl swim teams. Of the 50 members on the team, 40 come from New England, while 14 hail from the Granite State. But Fabian has a distinct advantage when it comes to finding potential pool candidates for his Keene State teams. Over the years Fabian, who is also a coach for the USA Swimming National Team, has traveled around the world with his daughter Eva, an international open-water competitor, now attending Yale University.
Fabian first met Resman about three years ago when their paths crossed at a World Cup open-water event in Argentina. Concerned about the currents of the Rio Nero River, the site of the race, Fabian and his daughter Eva commandeered a kayak to investigate the conditions. "One of the organizers asked if we could take this Israeli kid along, because he wanted to swim in the river too, and it ended up being Shahar," Fabian said.
Although the trio became fast friends, Fabian wouldn't hear from Resman for several years. Requited to spend three years in the military following high school, Resman returned to Israel to complete his commitment and continue his swimming.
Resman always dreamed about going to the Olympics. Falling just short during the qualifying stages for the 2012 games in London, Resman wasn't about to let his dream die. "I needed to find a good team and a good coach, so I started to look for a college," said Resman.
Remembering Fabian, Resman contacted him about coming to Keene State. "I told him that we were a non-scholarship Division III school, so I figured it would be the last we heard from him," said Fabian.
That didn't deter a determined Resman who got in touch with the KSC Admissions and Global Education offices. With paper work and visa issues resolved, Resman was on his way to Keene State College.
"I was happy, but I was also scared, because I was leaving my country and my family behind," said Resman. "But I knew I had to do it to make my dream come true."
The team really looked forward to Resman's arrival. "We didn't know if he was coming, but coach (Fabian) started calling him 'the rocket' just as an incentive for us to go faster," said Ledwith.
Joining the team for the second semester, the "Israeli Rocket" needed time to get up to speed. Still feeling the effects of jet leg, Resman didn't make such a good impression during his first practice with the team. However, Fabian knew better. "I knew Shahar was going to be an impact swimmer for us," Fabian said. "He's focused, hard-working, and he's a more mature athlete. Shahar is also serious about his studies, and for us that's always a good combination. If you have someone like that, you know they're going to be successful." Resman more than lived up to Fabian's expectations with his performance at the NEISDA championships.
Spending the next few weeks focusing on his training for the NCAA Championships, Resman feels he on his way to making his dream come true. "I have big goals, and this is just another step," he said about qualifying for the national meet.
"Shahar took the risk of coming here," said Fabian. "When swimmers come here, I want them to achieve their dreams, and for Shahar, that means representing his country at the 2016 Olympics. Hopefully, I can help him make his dream come true."