Jenkins Provides Owls with Bridge to the Past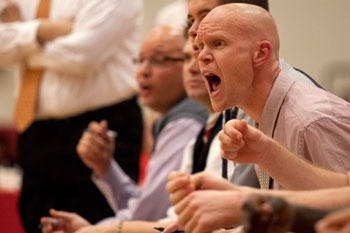 Doug Jenkins doesn't hide his emotion on the Keene State College bench. In his second season serving as an assistant on Head Coach Rob Colbert's staff, the energetic Jenkins still displays the same passion for the game as he did as an Owl player.
"I still get pumped up for the games like I did as a player," said Jenkins, who completed his four-year Owl career in 1997. "I just have to channel my energy into things that will help the team win."
Wins were few and far between when Jenkins played for the Owls. Recruited by then men's basketball coach Don Kelbick, Jenkins, a high scoring guard from Ridgewood, N.J., joined an Owl team that struggled to hold court in the old New England Collegiate Conference (NECC). "I remember the battles," said Jenkins. "We were playing in the No. 1 Division II conference at the time so the competition was intense."
Unable to sustain long-term success against their NECC rivals, who offered more scholarships opportunities, the Owls often found themselves undermanned during their final seasons in the conference. As their scholarships players began to diminish, so did their wins.
"After a while the loses were a little bit easier to take," said Jenkins about his Keene State teams that posted a combined 13-86 and 4-66 NECC record during his tenure. "I think I learned more about myself. I had expectations when I arrived at Keene State that I would help turn the program around, but it takes time."
Despite the losses, Jenkins and the Owls relished their underdog role, displaying their grit and determination by taking teams well into the second half in several league games. As a junior, Jenkins drained nine three-pointers on the way to scoring a career high 39 points against Bridgeport. "I thought we could beat those guys, but I missed a shot at the end," said Jenkins.
Although his senior team went 2-22, Jenkins knew better days were ahead for the Owls. "I enjoyed my last year probably the most because I knew things were going in the right direction," said Jenkins. "There was a different mentality when Coach Phil Rowe came in and then there was the seamless transition to Coach Colbert. And as they say, the rest is history." Jenkins never got the chance to play for Owls in Division III. The last scholarship player on the squad, Jenkins served as a student assistant on the 1997-98 team that posted the biggest turnaround of any collegiate program in the country, going from 2-22 to 21-9 during the teams' first season in Division III and the Little East Conference. Although he enjoyed his brief stint on the bench and the teams' success, Jenkins initially didn't see himself as coaching material. That all changed when he hooked up with Phil Hebert, the head boys' basketball coach at Keene High School. Over a 10-year period, Jenkins paid his dues, coaching grade, freshmen and JV Blackbird teams. Jenkins called it an eye-opening experience. "I thought I knew a lot about the game until I got around Phil Hebert," he said. "It was probably one of the best things for me. I learned there's more to the game than throwing up three-pointers."
"Doug's greatest strength was his off-season work with individual and groups of players," said Hebert. "His cell phone had every single telephone number of our entire program of players from junior high all the way to seniors. He would make sure that they would show up for open gym, outdoor sessions, league play, and AAU."
"There isn't many people like that who do all the work behind the scenes," Hebert added. "Everybody sees what goes on during games and might understand what goes on during practices, but no one really understands what goes on from the end of the season to the beginning of the next season and that was one of his greatest strengths."
A hands-on coach, Jenkins wasn't adverse to jumping on the court and demonstrating a drill or play. "He could also get out on the court with the players and be the best player on the floor," said Hebert. "It didn't matter what his age was he had that sort of toughness in him. He could pat you on the back and still coach you. The players respected him because they saw his energy and effort."
Looking to take a break from high school coaching, Jenkins contacted Colbert about a position on his staff. "Coach Colbert asked me what you can bring to the table?" said Jenkins, who also works in the special education department at Keene Middle School. "I told him I was looking for the fix as I like to call it - being around coaches and learning."
Colbert took Jenkins up on his offer and he hasn't been disappointed. "Doug is an exceptional practice coach," said Colbert. "He's always looking to see his players improve and is incredibly dedicated and serious with the kids." Not only does Jenkins give KSC players instruction and insight into the game, but he always provides them with a sense of the program's history and a link between Division II and III. "I think all the losses I endured as a player makes me really appreciate the program's current success," said Jenkins.
"Walking out of that building last year after beating No. 1 Middlebury was one of the most gratifying experiences in my basketball life," said Jenkins. "It's been about 20 years since we beat Bridgeport when they were number one, so we we're due. I sent Coach Colbert a text message thanking him for letting me be a part of this."