"Metropolis" silent film at Redfern Arts Center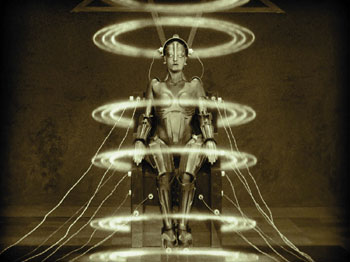 The Complete Metropolis, a silent film classic, will be brought to the big screen with live accompaniment by Alloy Orchestra on Wednesday, January 30, at 7:30 p.m. in the Recital Hall of the Redfern Arts Center at Keene State College. At 2 p.m. the day of the performance, Alloy Orchestra will explain and demonstrate how they create a musical film score at a workshop in the Alumni Recital Hall. This workshop is free and open to the public.
Working with a clamorous assemblage of unusual percussion instruments, Alloy Orchestra, a three man musical ensemble based in Boston, performs its original live score to the newly restored version of Fritz Lang's 1926 silent masterpiece Metropolis, considered the first science fiction classic. Film critic Roger Ebert hails Alloy as "the best in the world at accompanying silent films."
Directed by Austrian-American filmmaker Fritz Lang, Metropolis presents a highly stylized futuristic city where a beautiful and cultured utopia exists above a bleak underworld populated by mistreated workers. The German-produced film, with its special effects, art deco inspired set design, and expressionist plot is considered a hallmark in early cinema.
Metropolis was cut substantially after its premiere and large portions of the film were lost over the decades. In 2008, a print of Lang's original cut of the film was found in a museum in Argentina. After a long restoration process, The Complete Metropolis was shown in 2010 with Alloy Orchestra performing its original score of the film at the TCM Classic Movies Festival in Los Angeles. Alloy rewrote an earlier version of their score for Metropolis to make it fit with the new, and much longer, restored version.
Alloy uses an unusual combination of found percussion and state-of-the-art electronics to create any sound imaginable. Utilizing their famous "rack of junk" and electronic synthesizers, the group generates beautiful music and special sound effects in a spectacular variety of styles.
This performance is co-presented by the Redfern Arts Center and KSC's Film Society in collaboration with the Film Studies Department. The Film Society is programming additional silent films to be screened throughout the spring following Metropolis. D.W. Griffith's Way Down East will be accompanied by Jeff Rapsis on piano on Thursday, February 28 at 7 p.m.
An special exhibit of film posters from the Film Society's collection will be on display in the Redfern's lobby from January 22 to February 4. A replica of the rare Metropolis poster will be part of this exhibit. Hailed as the most valuable one sheet in the world, an original Metropolis film poster was among nine rare and early film posters that sold for $1.2 million at a December 13 auction. It is one of only four known to exist.
Tickets to the performance are $20 for the general public, $15 for senior citizens and children, and $5 for Keene State students. For tickets, call the Redfern Box Office at 603-358-2168 or order online at www.keene.edu/racbp.
This performance is funded in part by the New England States Touring program of the New England Foundation for the Arts, made possible with funding from the National Endowment for the Arts Regional Touring Program and the six New England state arts agencies.
About Redfern Arts Center at Keene State College
The Arts Center is named in honor of Dr. Leo F. Redfern, Keene State College President from 1969 to 1979 for his vision, commitment, and eloquence on behalf of the arts that made funding and construction of the facility a reality. In 1981, KSC inaugurated this new performing arts center, with the goal of providing unforgettable artistic encounters for the campus and community. Since then, the Redfern stage has hosted hundreds of amazing shows, from internationally renowned artists to emerging young talents to KSC's own student performers. Over the years, the Redfern has expanded its outreach programs, curricular and community partnerships, becoming an indispensable resource for the Keene community and beyond.