Walk-on Bartlett Wins Little East Swim Championships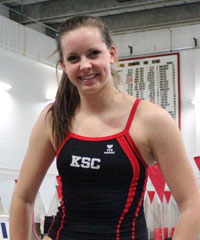 How many times have you said to yourself, "I'll regret it if I don't do something?"
That goes for just about everyone, including athletes at Keene State College. For every member on a Keene State team, there are more than a handful of former high school athletes walking up and down Appian Way that for various reasons decided not to continue pursuing their athletic careers in college.
Ali Bartlett isn't among them. Arriving on the KSC campus this fall, the freshman from Exeter, N.H., had a change of heart, making a flip turn and deciding to join the Keene State swim team.
It turned out to be the right decision for Bartlett, who went from being a walk-on to a Little East Conference champion, not only winning the 50-yard freestyle, but also being a member of the Owls' victorious 200 free and medley relay teams at the recently held conference meet. "It was an amazing feeling," said Bartlett about her first place finishes. "There are so many top-notch swimmers on the team, and it's a great feeling to know that I contributed to the championship."
"I was just really happy for her. It made me feel good that we can take somebody into the program and develop them into one of the top swimmers in the Little East," said KSC Coach Jack Fabian. "Most people would've said she can't swim at this level. But we don't just have super talented kids on the team, we work hard to help them develop their talents. There's no better example than Ali Bartlett."
Ironically, getting Bartlett to the Spaulding Gym pool turned out to be the hardest part. Swimming since the age of eight, Bartlett took to the water early, competing on her club and Exeter High School teams. A four-year swimmer and senior team captain for the Blue Hawks, Bartlett was a member of the school's winning 200 free relay team that won the Division I championship in a meet record time.
Despite her accolades, Bartlett wasn't ready to commit to swimming in college. Citing several concerns, Bartlett initially had no intentions of joining the team. "It was a combination of things," she said. "I didn't know what my workload was going to be like, and I also didn't think I'd be up to the level of the team."
That all changed once Bartlett got to campus. "Once I got to school, I started to think about it," she said. "I just missed swimming and knew I'd regret it if I didn't do it."
Actually, Bartlett wasn't the only one hesitating to make the plunge. She had been in touch with Keene State swim coach Jack Fabian over the summer, sending him her top times in several freestyle events.
Fabian was initially unimpressed. "I told her that her times didn't quite measure up and we were well stocked in freestyle," he said. "But I encouraged her to come out for pre-season practice."
At first, Bartlett decided not to take Fabian up on his invitation. A talk with a couple of persuasive members of the Keene State men's team, who happen to live on her dorm floor, reinforced her resolution to return to the pool.
Bartlett found the thought of joining a nationally-ranked team that featured so many talented swimmers very intimidating. "It was the scariest day of my life when I went and talked to the coach," Bartlett admitted. "But the team was really welcoming, and Jack was so nice. He and the team made me feel so comfortable right from the start." Getting her feet wet, Bartlett enjoyed the intense but effective workouts that were geared to her specific event. Her hard work paid off. "I dropped my time a ton at our first meet at WPI," said Bartlett. "I did a double take when I looked at the board. I couldn't believe my time."
No one was happier to see Bartlett back in the pool than her mother Stephanie. "I think she missed it more than I did. She goes to every single one of my meets," said Bartlett.
Bartlett continued to make progress in the pool, posting second- and third-place finishes in the 50 free respectively in dual meets against Springfield/Wheaton and Tufts.
Despite her success, Bartlett played down her expectations leading up to the LEC championships. "If someone told me I'd win a race at the conference championships, I'd tell them they were crazy," said Bartlett.
The combination of competing in a competitive race and the desire not to let her team down brought out the best in Bartlett. "I think the competition helps me to go faster," she said. "I was so excited when I won. I could hear my mom screaming from the stands."
Fabian feels Bartlett has just scratched the water's surface when it comes to her potential in the pool. "Ali will definitely qualify for the New England Championships," said Fabian. "If we can get her to stick it out for four years, I feel within two or three years she's someone who could be going to the NCAAs."
Being a sprinter, Bartlett's goals are more short term. "I just want to keep improving and helping the team," she said.
Related Stories