Annual Job and Internship Fair a Full Success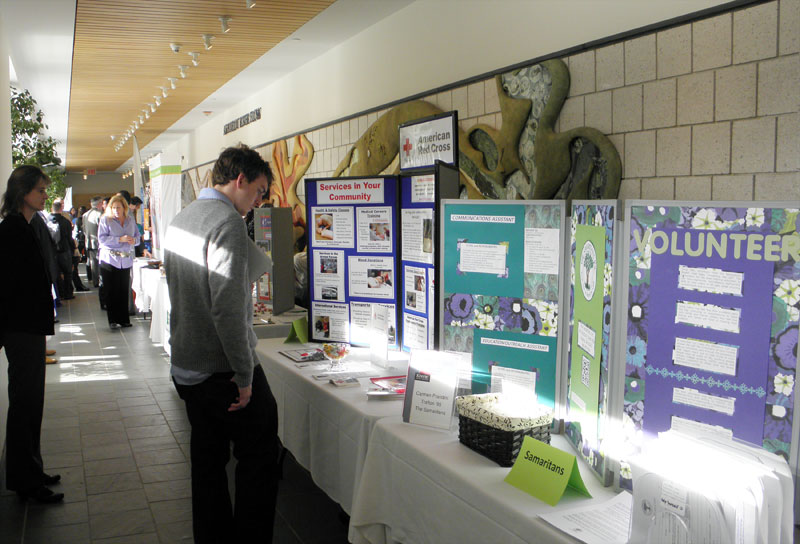 On Thursday, November 15, 2012, the Office of Academic and Career Advising hosted its annual job and internship fair in the lobby of the Putnam Science Center. This year, 42 employers attended, up from 34 last year. Student attendance was also up with the corridors abuzz in conversations about employment and internship opportunities. Both for-profit and non-profit employers represented varied industries including, but not limited to, manufacturing and construction, social services, insurance, finance, wholesale and retail. Some NH-based organizations, such as NHPR, came specifically to promote internship opportunities recognizing the quality of Keene State College's academic programs and the highly qualified students they produce. Local organizations including Cheshire Medical Center, Big Brother, Big Sister, Monadnock Family Services and American Red Cross came out in full force to provide internship and volunteer opportunities, crucial for students to have as part of their college tenure.
A great number of employers were recruiting that day, some scheduling as many as 8-15 follow up interviews. Many Safety and Occupational Health students came with resume in hand to take the first step in applying for jobs and internships with companies such as Georgia-Pacific, Skanska and Turner. Students looking for work in the finance and insurance industries also had great opportunities as companies such as Combined Insurance, Liberty Mutual and NBT/Hampshire First Bank were actively hiring. National programs such as City Year, Student Conservation Association and VISTA provided an overview of their organizations and service-based positions.
An upbeat and positive atmosphere led many employers to comment on their satisfaction of the event and the chance it provided them in getting excellent candidates. The fair will be hosted again next November with hopes of ever-increasing attendance from both employers and students.
Related Stories