Thorne Gallery Invites Artists to Enter Juried Exhibit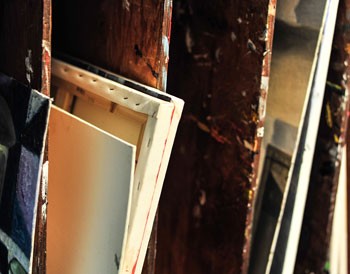 Artists living within 30 miles of Keene and Friends of the Thorne members are invited to enter the 2013 Biennial Regional Jurors' Choice Competition at the Thorne-Sagendorph Art Gallery at Keene State College.
The exhibition, open to artists working in all media, will be displayed January 25 to March 7, 2013. The juror is Kristina Durocher, the Director of the Museum of Art at the University of New Hampshire in Durham, NH. In addition to selecting works to be shown in the Regional Jurors' Choice Exhibition, Durocher will select artists for various awards, honors, and cash prizes. These awards will be announced at 6:30 p.m. Thursday, January 24, during an opening reception from 5:30 to 7:30 p.m., hosted by the Friends of the Thorne. The reception and exhibition are free and open to the public. Gallery visitors are asked to vote for the People's Choice Commendation Award to be announced Feb. 21.
Durocher holds a MA in Art History from the University of Massachusetts, Amherst with a concentration in contemporary art theory and a dual BFA in Art History and Painting from the Massachusetts College of Art and Design, Boston. She oversees the Museum of Art's 1700-piece collection that specializes in acquiring contemporary works on paper. Her curatorial focus embraces both solo and group thematic exhibitions of regional and national artists, exhibitions that support student learning and faculty instruction, and teaching through art as a primary source for academic and social engagement.
Prior to joining the University of New Hampshire, she served as curator at the Fitchburg Art Museum, Fitchburg, MA, from 2005–2011. During her tenure in Fitchburg, she supervised the reinterpretation of the Museum's permanent ancient Egyptian gallery and organized more than 40 historical and contemporary art exhibitions. She has been an outside juror and panelist for numerous exhibitions, and currently serves as co-chair of the Academic Galleries and Museums professional affinity group of the New England Museum Association.
Artists may submit one or two works in any medium completed within the past two years and not yet exhibited in this area. Works done under the supervision of an instructor are not eligible. All art must be ready to hang or display. No glass with clip frames will be accepted.
Entries for the competition must be hand-delivered, or a CD of images can be mailed to the Thorne-Sagendorph Art Gallery. CDs must be received by Friday, December 14. The times and dates for hand-delivered submissions are 9 a.m. to 3 p.m., Friday and Saturday, December 14 and 15. Artists must complete a registration form and label information when mailing the CD or when they deliver their work. Upon completion of the jury process, artists will be notified by phone or e-mail of the juror's decision. Artists are encouraged to make entries available for purchase, although not-for-sale works will be accepted. Artists whose work is not accepted into the exhibit must pick up their work on Friday or Saturday, January 4 or 5, from 9 a.m. to 3 p.m.
For further information about the Regional Jurors' Choice Competition and to download a Call for Entries form, visit the Thorne website www.keene.edu/tsag/exhibits or call 603-358-2720.
Related Stories