Former Owl Whitfield Playing it Safe at Boston University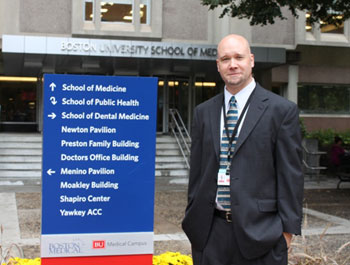 Standing off to the side of the lush green grass field that serves as both the start and finish line for the Keene State College Cross Country Invitational, Bob Whitfield '90 and '92 gazed over to the runners going through their pre-race preparation.
In a few minutes the gun to start the race would be going off, sending runners on a five-mile trip around the perimeter of Owl Athletic Complex, the home course of the Keene State cross country teams. "This is fantastic," said Whitfield, returning to the campus for the first time in over 25 years. "We never had this when I was running. In fact, we never had a home course. All of our meets were on the road." After leaving Keene State, Whitfield, who ran two seasons for the Owls, followed a trail that took him to Boston University where he serves as the Director of Campus and Clinical Safety. On any given day, he could be involved in a wide array of projects that include laboratory, fire, and construction safety. Whitfield must also know the rule book dealing with regulations from the Environmental Protection Agency (EPA) and the Occupational Safety and Health Administration (OSHA).
"Every day is a challenge," said Whitfield. "As I'm driving to work, I have a plan in my head of what I will be doing that day. But as soon as I get there, it changes." Whitfield has a lot of terrain to cover in his position. A large metropolitan institution with an enrollment of 30,000 students, Boston University has about 400 buildings on its main Charles River Campus and another 40 at its Medical Campus. "We could respond to an incident, or we could have a regulatory agency show up to do a routine audit, so it keeps us really busy," he said. Used to running with a pack of Owls, Whitfield now has six Keene State alums on his staff at Boston University including Chris Rowell '03, Rory Queenan '08, Scott Lawson '07, Jenna (Moar) Feldman '07, Bill Kallinich '07, and Kyle McGovern '08. After working eight years at BU, Eric Johnson '01, is on the other side of the MBTA track these days at Boston College. "It's great to have all the Keene State people here," said Feldman. "We'll get together and talk about our days at Keene."
After learning about the Keene State cross country program from a couple of guys on the team who saw him run at a city meet in Manchester, Whitfield decided to lace up his running shoes and head to Keene. Finding himself down on the depth chart that included several All-America runners, Whitfield, who admitted to performing better in workouts than meets, soon became a frontrunner in a growing major on campus. Earning a degree in management in 1990, Whitfield retuned a year later finishing a second degree in safety administration in 1992. "Safety was starting to become a big major at Keene State," said Whitfield. "A lot of my friends were in the program. They were leaving here and finding really good jobs. I started taking more and more classes, and now I've been doing it as a professional for almost 20 years." After graduating, Whitfield spent a few years in the Chicago area before moving back east and landing a job at Boston University.
As far as having so many Keene State alums on his staff, Whitfield says the school has a great reputation in the field. "Keene State people are all over the place," he said. "They come to a job and with a nice background with field experience and fit right in."
Many of Whitfield's Keene State colleagues took a similar route, winding up in safety studies almost by accident. "I knew nothing about safety until I got to Keene," acknowledged Lawson, who came to the school to major in management and play soccer. "I took a couple of classes and fell in love with it. The hardest part was convincing my parents, who didn't want me to switch majors."
Originally from Beverly, Mass., Lawson said he reached a compromise with his folks, minoring in management.
As far as Feldman was concerned: It was a case of father knows best. "Initially, I didn't plan on going to school, but my father insisted. He heard good things about the major and suggested that I try a couple of classes," said Feldman, a native of Winthrop, Mass. "I enjoyed it so much that I decided to major in it my freshman year."
Even though he grew up across the Conn. River in Brattleboro, Rowell was reluctant to visit Keene State, making the short trip over to the campus to appease his mother. "My mom wouldn't leave me alone, she kept on saying you got to look at Keene," said Rowell. "I came for a tour, and I was surprised. It felt like the place to be."
A firefighter throughout high school and college, Rowell intended on majoring in athletic training, but quickly changed course. "I liked the relationship between the safety courses and my work in the fire station," he said. According to Lawson, the safety studies major had a unique appeal. "I liked the fact that it was a lot more hands-on," said Lawson. "It wouldn't be a job where I'd be behind a desk all the time." Rowell and Queenan felt the internship programs provided by Dr. Melinda Treadwell gave KSC grads a leg up when it came to the job market. "The additional responsibility really came in handy," said Queenan, a native of Nashua. "The reports and recommendations and problem solving that I do here on a daily basis are similar to the work I did during my internships."
The large Keene State contingent performs a variety of tasks at Boston University. Lawson works in the hospital at the medical center, while Feldman deals with the lavatories. Although Queenan is predominantly involved with industrial hygiene, he could wear many different safety hats in a given day. "I was exposed to a lot of different classes at Keene State, which helped me prepare for the role I've taken on here," he said.
Evident by the growth of the major and the construction of the new TDS building on the Keene State campus, the safety studies field continues to grow. "When I started in the field, I felt like I had to explain what I do," said Johnson. "At the time Keene State was one of the few colleges in the country that had the program. Keene State helped put health and safety on the map."
"Keene State has a very good reputation in the field," said Whitfield. "Companies and institutions seek out their grads. They come to a job well prepared."
"I absolutely got great education," said Feldman. "I'm still paying very high student loans, but I would never change it for anything."
Working at Boston University hasn't changed their athletic allegiance. Most of the KSC grads still remain Owl fans. A few, like Lawson (whose parents attended BU) and Queenan, decided to play it safe and pick both teams.
Related Stories