Hometown Connection Brings Leavitt and Nyman to Keene State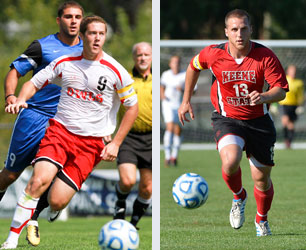 Going through its final paces in preparation for Thursday's Little East Conference tournament semifinal showdown against UMass-Dartmouth, the Keene State men's soccer team is fortunate to be in the tournament, even moreso to be hosting a semifinal game.
Ravished by injuries and withstanding long scoring droughts, the Owls, who finished the regular season with an 11-6-1 (5-1-1 LEC) record, somehow find themselves two wins away from capturing their seventh LEC conference crown.
Ask Ron Butcher why his team has been able to persevere and dribble their way around a myriad of obstacles this season, and the Owls' longtime men's soccer coach will point to his two senior captains: Blake Nyman and Kyle Leavitt. "I always say good captains are worth one or two victories every year with their leadership qualities," said Butcher. "They play for the love of the game and understand what it's like to be down and get back up again." Although they play different positions, Leavitt, a midfielder, and Nyman, a center back, have many similarities, besides having the same hometown of Plymouth, Mass. Both players possess an unyielding work ethic and leadership skills that has drawn Butcher's praise.
In a recent story in the KSC newspaper, The Equinox, Butcher called Kyle a digger with a "never say die" attitude. "He is just a bull in a china closet. It doesn't matter; he plays the same way from start to finish and has the skills to back it up," Butcher said.
Butcher refers to Nyman as the teams' enforcer. "If you're going to go 1-v-1 against Blake, you're going to have to earn it to get by him. I don't care what you do," said Butcher. On the outside looking in a few weeks ago, Keene State rallied down the stretch going 5-1-1 in its last seven games, tying LEC leader Eastern Conn. and pulling off key conference wins over Rhode Island College, UMass-Dartmouth, and Western Conn.
It's no coincidence that Leavitt and Nyman were there when they were needed the most. Leavitt sent a Homecoming crowd home happy by setting up the game-winning goal against RIC, and a week later did the honors himself, scoring just 22 seconds into overtime to give KSC a dramatic 1-0 win over the Corsairs.
Anchoring a Keene State defense that posted shutouts in four of their last five games, Nyman crashed the net during a corner kick, scoring the lone goal in Saturday's win against Western Conn., enabling KSC to secure the second seed, and more importantly, the home tournament game.
It's also no coincidence that Leavitt and Nyman have become impact players for the Owls. Partnering up in Plymouth at a young age, the two joined a long list of soccer players from "America's Hometown" to find a soccer home at Keene State.
While some historians might jokingly say that Butcher once tried to recruit Myles Standish after he saw him kicking around Plymouth Rock, the migration of soccer players from the Plymouth area to Keene State began in the early '70s, when Emerson Coleman came to the campus located in the southwestern corner of New Hampshire. A long and talented flock of Owls that included Jim Prouty, Dave Stuart, Paul McStowe, Eric Foley, and Mike Norton, not to mention women standouts like Allison Foley and Jeanne (McNamara) Adelman, soon followed.
"I had a very positive experience playing for Coach Butcher and word got out about Keene State," said Coleman, who spent 20 year coaching at Plymouth Carver and later Plymouth North High School before moving on as the girls' soccer coach at Duxbury High. "It became a soccer destination for a lot of good soccer players from the area."
Growing up just a few blocks from each other in Plymouth, Leavitt and Nyman became fast friends as kids playing and assortment of sports on the streets of Plymouth. "We hit it off, and I can't get rid of him ever since," said a laughing Leavitt.
While Leavitt followed in the soccer footsteps of his older brothers Bill and Sean, Nyman was influenced by his brother Matt. "My parents weren't into sports," said Nyman, who also wrestled and ran track for the Panthers. "My father couldn't name five NFL teams if he tried."
The two played two seasons together at Plymouth South High School, before Leavitt decided to finish his scholastic career on the stronger Worcester Academy program.
Nyman and Leavitt not only earned the respect of their teammates, but also of opposing coaches like John McCully, who ran the boys' soccer program at Nauset Regional High School down the Cape. McCully, a two-time All-American at Keene State, recruited the pair to play on his Crusaders United premiere team. Well-schooled in the fundamental of the game, Nyman and Leavitt took their game to the next level. "They were complete athletes who handled themselves well even at an early age," said McCully.
While Leavitt had numerous options after leaving Worcester Academy, and initially accepted early admission to Wheaton College, Nyman, despite being a three-time Atlantic Coast League All-Star and a two-year captain at Plymouth South, didn't think he was college material. "When I heard that Keene State was interested, I was blown away," said Nyman. "I never thought I could play college ball."
Never intended to be a package deal, Nyman and Leavitt nonetheless showed up at Keene State ready to make their mark on the prestigious program. Although it took a while for both to get up to speed, Nyman, who received his share of yellow cards in his first season, and Leavitt became integral members of a Keene State team.
After being upset by UMass-Dartmouth in their first taste of LEC tournament action as freshman, Nyman and Leavitt wouldn't be denied their conference crowns as sophomores in 2010. But it was a bittersweet celebration for Leavitt.
KSC thought they had moved on to the 2010 finals after defeating UMD in a semifinal clash. Word that Corsairs' protest of the game was upheld was met with even worse news. Getting set to replay the game, Leavitt was informed that his brother Sean had unexpectedly died. After conferring with his family, Leavitt decided to play the game. "That's what Sean would want me to do," he said. "I have no regrets about that decision." "I encouraged him to go home, but he looked me right in the eyes and said he was staying," said Nyman. "The guys on the team fed off of Kyle's strength."
With extra incentive, KSC defeated UMass-Dartmouth and Rhode Island College in the finals to capture the Little East Championship and conference's bid to the NCAAs. "It was a special moment for the team," said Nyman, a two-time All-LEC first-team back. "We now felt a part of the Keene State soccer tradition."
Nyman's leadership on the team was unmistakable. Being named a captain as a junior, the soft-spoken back led by example. "It was Nyman's team last year, and it will be his team this team this season," said Butcher. "What he says, goes. He's the law of the land. He doesn't play around. He just wants to win."
Although the Owls came up short in last year's championship (losing to Eastern Conn. on a penalty-kick goal), expectations were high going into this season before injuries and the teams' inability to find the back of the net put a damper on its prospects.
Teams need strong leaders in tough times, and Nyman and Leavitt have answered the call. "Good leaders are hard to find, and we're lucky to have two," said Butcher. "We'll go as far as they'll take us."
Related Stories