Kenyon and Swindell Named to Capitol One Academic All-District Soccer Teams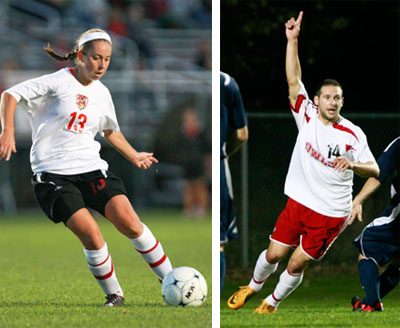 Keene State College's Hayley Kenyon (Exeter, R.I) and Brian Swindell (Milford, Mass.) have been named to the recently announced Capitol One Academic All-District women's and men's soccer teams respectively. It's the first time Keene State has placed a player on each team in the same season.
A junior forward from Exeter, R.I., Kenyon has put up impressive numbers in the field and in the classroom. Selected to the All-Little East women's soccer team, Kenyon leads the Owls in scoring with 12 goals and 27 points. She tied a school record scoring four goals (all in the first half) in a 7-2 win over Framingham State.
Kenyon is equally efficient in the classroom, posting a 3.88 cumulative GPA majoring in architecture. "A lot of student athletes know it's hard to balance both sports and academics, so I'm happy to be recognized with this honor," said Kenyon, a three-year member of the KSC women's soccer team.
"Last year was a big struggle for me, taking a lot of architecture classes and having games. I had to go to the architecture studio late at night and finish projects that other students in my class had been working on all afternoon while I was at soccer. It wasn't easy, but it's time management and knowing what you have to get done. Whether its sports or academics, I put everything I have into everything I do."
A blue-collar midfielder on the Keene State men's soccer team, Swindell displays the same drive and determination to succeed in both his athletic and academic pursuits. Three of his six goals this season were game-winners in Owl victories over Worcester State, Southern Maine and Rhode Island College. Swindell also delivered when it counted in his studies with a 3.78 cumulative GPA as a safety studies major.
Swindell called the honor awesome. "I just try to study hard and keep up with my academics," said Swindell, who just completed his second season with the Owls. "Academics are number one, that's why you're in college, but my hard work on the field has also paid off."
"School alone is tough and when you add a sport it becomes even more difficult and time consuming," he added. "You definitely need to manage your time. I take a lot of pride, putting in the effort that makes me standout in the field and in the classroom."
Related Stories