At the Owl Athletic Complex — with a Real Owl!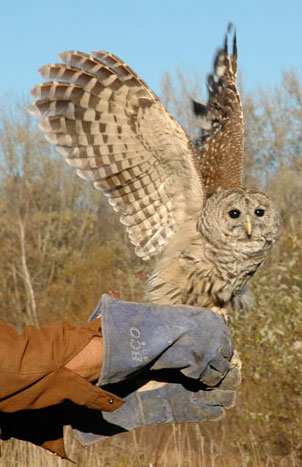 Deb Gode, from the Winchester Wildlife Rehabilitation Center, and Richard Righter, DVM, were among a small group that assembled near the entrance to the Owl Athletic Complex on October 17 to release a rehabilitated barred owl into the wild.
The Winchester Wildlife Rehabilitation Center is a local non-profit that rehabs about 200 birds and animals each year, often with Dr. Righter's generously donated help. This owl suffered a head injury and broken leg after being hit by a car, and spent nine weeks at the Center. The brushy stretch of wetlands between the entrance gate and the athletic fields should offer her a good home, and we hope she sticks around and prospers for many years. Look for her at night games!
Related Stories