The TDS Center - Wisdom is State-of-the-Art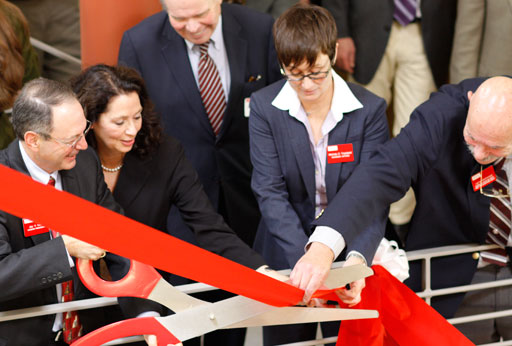 The Evolving Campus
Over the years, the Keene State College campus has grown up and flourished around Butterfield Hall, built in 1926 and 1960, and the Adams Technology Center, built in 1969. The list of needed improvements for the two buildings continued to grow until it became absolutely clear that any work would provide only a temporary fix that couldn't ultimately address the demand for innovative academic programming, energy efficiency, infrastructure to support new instructional equipment, and a more cohesive architectural integration into the evolving campus.
Today's educational environment demanded more open space, more opportunities for faculty to collaborate, and more emphasis on students and faculty from each of the disciplines represented in these areas to work together. "The question became, how do you give a physical form to that kind of evolution?" recalls Dr. Jay Kahn, Interim President of Keene State College. "What kind of synergy could a new building offer that would make this possible?" Those questions launched a collaborative planning process that involved Keene State faculty, members of the physical plant staff, and the College's leadership from the finance and planning office. Keene State's fully realized, shovel-ready plan created a new opportunity in what was a bad economy as the project qualified for the American Recovery and Reinvestment Act and generated many private donations.
The New Technology, Design, and Safety Center
Just 14 months later, Interim President Jay Kahn cut the ceremonial ribbon on the new $16 million Technology, Design, and Safety Center, bringing 53,000 square feet of educational space online for the College. The TDS Center is home to three of Keene State College's rapidly expanding flagship academic programs. KSC's undergraduate and graduate degree programs in Safety and Occupational Health applied Sciences are the only programs of their kind in New England. The College's undergraduate degree in Architecture is unique to New Hampshire's public higher education system. The origins of the technology-based undergraduate degree program in Sustainable Product Design and Innovation reach back nearly 100 years. Together, the three programs have experienced a 33 percent enrollment growth since 2005.
Watch the TDS Center dedication slide show
Architecture Informs Learning
The new TDS Center is not just another classroom building. "The construction of the TDS Center incorporates a number of features that enhance high impact teaching practice and contribute to effective learning," explains Dr. Melinda Treadwell, Provost of Keene State College. "The programs that are incorporated in this facility have at their core innovation and collaboration and the interior space, technology, and furnishings have all been designed or selected to facilitate student learning.
Flexible floor plan arrangements and moveable furniture foster collaboration
Architectural model shop and digital prototyping lab allow students to assess the effectiveness of their designs
Critique space encourages the exchange of ideas between students and faculty
A full-scale contained environment provides a variety fo safety scenarios that reflect actual conditions
The first floor hub area encourages inter-disciplinary collaboration through small group study, informal conversation, and gallery space
Our Commitment To Sustainability
"The building also reflects the College's commitment to sustainability," notes Kahn. "It is the outward demonstration of the projects and practices that educate our campus community, that conserve our natural resources, and that encourage and promote innovation in all its forms. Our goal is to receive the highest certification recognized by the US Green Building Council."
The building is situated to take advantage of natural lighting and airflow
Fully operational windows that are equipped with sensors to maximize opportunities for passive heating and cooling
Building materials selected to contribute to healthy indoor air quality or for their recycled content
Waterless and low flow fixtures that reduce water consumption
Related Stories