Todd Rundgren Rocks with Ethel Quartet at Redfern Arts Center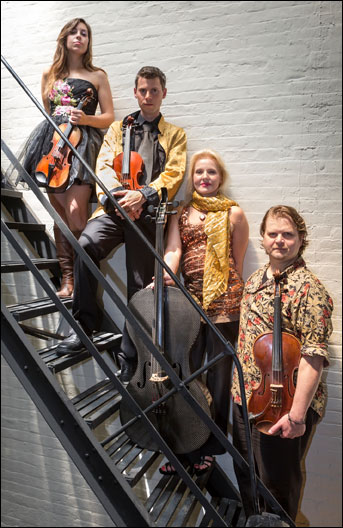 Multi-platinum recording artist Todd Rundgren will rock to the tunes of the 1970s with ETHEL, an unconventional post-classical string quartet on Tuesday, October 23, at 7:30 p.m. at the Redfern Arts Center at Keene State College. The Keene performance is part of a multi-city U.S. "Tell Me Something Good" tour that will reunite these two innovative artists.
"Tell Me Something Good" brings ETHEL and Rundgren together as they draw material and inspiration from the sounds and scenes of the 1970s, the era of funk, glam rock, early minimalism, Watergate, and the Vietnam War. It was a restless, intelligent, dissatisfied decade of contradictions, loss, and discovery that was dubbed "The 'Me' Decade." This vibrant program celebrates the decade that birthed the best known music of rock icon Rundgren, who has made a lasting impact on both the form and content of popular music as a songwriter, video pioneer, producer, recording artist, computer software developer, conceptualist, and, most recently, interactive artist.
ETHEL is punk and classical, a pacesetter that's both challenging and accessible. The quartet was described as "indefatigable and eclectic" (The New York Times) and "vital and brilliant" (The New Yorker). Formed in 1998, the New York City-based ETHEL comprises Ralph Farris (viola), Dorothy Lawson (cello), Kip Jones (violin) and Tema Watstein (violin). They perform adventurous music by celebrated contemporary composers.
The collaboration of ETHEL and Rundgren (electric and acoustic guitars, ukulele, piano) is surprising fans with groundbreaking compositions and nontraditional improvisation. Both artists are pulling from their own vast catalogs as well as performing collaborative repertoire including but, not limited to, arrangements of I Saw the Light, Flamingo, Zen Archer, Stood Up, Black Maria, and Lord Chancellor's Nightmare Song.
The two first toured together in 2005 with Joe Jackson in what has been described as an explosive, beautiful and spine-tingling, divine performance that had more than one fan in tears.
Both artists will remain after the performance to answer questions and sign CDs in the lobby. ETHEL and Rundgren also will lead a Creating Rock Arrangements for Strings open workshop on Monday, October 22, at 6 p.m. in the Alumni Recital Hall. The workshop is free and open to the public. Tickets are required to attend the Tuesday night performance, which is sponsored by Markem-Imaje. Tickets range from $35 to $20, and $5 for Keene State students. For tickets, call the Redfern Box Office at 603-358-2168.
About Redfern Arts Center on Brickyard Pond
The Arts Center is named in honor of Dr. Leo F. Redfern, Keene State College President from 1969 to 1979 for his vision, commitment, and eloquence on behalf of the arts that made funding and construction of the facility a reality. In 1981, KSC inaugurated this new performing arts center, with the goal of providing unforgettable artistic encounters for the campus and community. Since then, the Redfern stage has hosted hundreds of amazing shows, from internationally renowned artists to emerging young talents to KSC's own student performers. Over the years, the Redfern has expanded its outreach programs and community partnerships, becoming an indispensible resource for the Keene community and beyond.
Related Stories