Keene State College Dedicates New Technology, Design, and Safety Center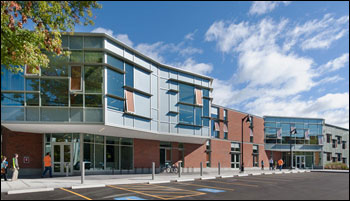 $16 Million Project is Model for High Impact Teaching and Sustainability
Dr. Jay V. Kahn, Interim President of Keene State College, will cut the ceremonial ribbon officially dedicating the new Technology, Design, and Safety Center on Friday, October 12. The dedication ceremony welcomes local and state officials, members of the community, donors to the project, Keene State College alumni, students, faculty, and staff, and representatives from the Boston architectural firm of Architerra, and the contractor, Engelberth Construction.
Completed in just 14 months, the $16 million project brings 53,000 square feet of educational space online for the college. The new building, situated on Winchester Street in Keene, replaces Butterfield Hall built in 1926 and 1960, and the Adams Technology Center built in 1969. The shovel-ready project was funded through the University System of New Hampshire capital projects initiative and through private donations.
The new Technology, Design, and Safety Center is home to three of Keene State College's rapidly expanding flagship academic programs. Keene State College's undergraduate and graduate degree programs in Safety and Occupational Health Applied Sciences are the only programs of their kind in New England. The college's undergraduate degree in Architecture is unique to New Hampshire's public higher education system. The origins of the technology-based undergraduate degree program in Sustainable Product Design and Innovation reach back nearly 100 years at Keene State College. Together, the three programs have experienced a 33 percent enrollment growth since 2005.
"The TDS Center is a welcome addition to the Keene State College community and to the southwest region of New Hampshire. Not only does it serve as a model for effective teaching, it is an outstanding example of our commitment to sustainability," notes Dr. Jay V. Kahn, Interim President of Keene State College. "Keene State has actively sought out partnerships with the business and manufacturing communities in this region. Dedicating this state-of-the-art facility further emphasizes our efforts to build relationships that provide increasing opportunities for our students and furthers business development and economic growth in the region." The new TDS Center is home to the Regional Center for Advanced Manufacturing that provides manufacturing training and experience for employees in the region. It is also the headquarters of WorkWiseNH, a free consultation service offering expertise on workplace health and safety.
Throughout the design process for the building, members of the Keene State College faculty were involved in discussions on how the new space could directly support their teaching. "The construction of the TDS Center incorporates a number of features that enhance high impact teaching practices and contribute to effective learning," states Dr. Melinda Treadwell, Provost of Keene State College. "The programs that are incorporated in this facility have at their core innovation and collaboration and the interior space, technology, and furnishings have all been designed or selected to facilitate student learning."
A built environment that supports learning
Flexible floorplan arrangements and moveable furniture to foster collaboration
Architectural model shop and digital prototyping lab that allow students to assess the effectiveness of their designs
Critique space designed to encourage the exchange of ideas with students and faculty
Full-scale contained environment that provides training for students in a variety of safety scenarios that reflect actual conditions
First floor hub area that encourages inter-disciplinary collaboration through small group study, informal conversation, and gallery space
Commitment to sustainability
The building is situated to take advantage of natural lighting and airflow
Fully operational windows that are equipped with sensors to maximize opportunities for passive heating and cooling opportunities
Building materials selected to contribute to healthy indoor air quality or for their recycled content
Waterless and low flow fixtures that reduce water consumption
Phase Two of the project includes a 20,000 square foot photovoltaic solar array on the roof of the TDS Center that has the capacity to provide nearly half of the building's annual energy demand
The building was designed to support LEED Platinum certification
Related Stories