Elementary Physical Education Teacher of the Year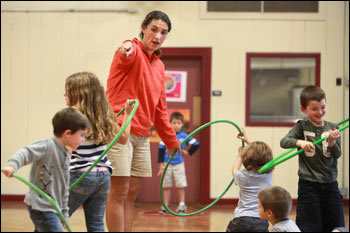 It's easy to find Michelle Tiani's gym class at Wheelock Elementary School in Keene. Just go down Lily Pad Walk, take a left on Florida Trail, and turn right at Slow Poke Street.
All the hallways at Wheelock draw a reference to the school's mascot, the turtle. So you better behave going down Alligator Alley or avoid racing down Loggerhead Lane.
Tiani has no time to dawdle down the hallways these days. She is constantly on the go, teaching physical education classes four days a week for the 165 students (kindergarten-fifth grade) at Wheelock and traveling to the John D. Perkins Elementary School in Marlow on Mondays.
Tiani's classes at Wheelock are held in the school's community room - a large, open area where lunch is also served and assemblies are held. Tiani has a unique way of transforming the otherwise mundane room into a place full of fun and nonstop activity for her students.
Michelle is a special teacher, said Gwen Mitchell, principal at Wheelock: "Michelle's energy and commitment to wellness and physical education is extraordinary."
Tiani's work in the classroom and the glowing recommendations of those who she has worked with over the years hasn't gone unnoticed, especially by her physical education colleagues, who recently named the Londonderry native and 2003 Keene State grad the elementary school physical education teacher of the year for New Hampshire. Tiani, who also serves as the varsity field hockey coach at Keene High School, was surprised to hear about the honor. "I got home from a game and there was an email telling me that I had won - I couldn't believe it."
Phyllis Peterson, principal at the Marlow School, nominated Tiani for the award. Although Tiani visits the school just one day a week, Peterson raves about her initiative and relationship with her students.
"I had a group of students who were reluctant to challenge themselves, and Michelle has turned their attitude around," said Peterson, who is starting her seventh year in Marlow. "I see a big change in the climate when it comes to physical education. She sends a message that they can do it."
Peterson says Tiani goes the extra mile, obtaining equipment and creating after-school intramural programs and health classes. "I see her energy in offering our kids something they might not have received in a bigger school," said Peterson. "Her personal initiative really makes it works for us."
Tiani, who will receive the award from the New Hampshire Association for Health, Physical Education, Recreation and Dance (NHAHPERD) in November, always saw herself teaching physical education. "I always knew that being in the classroom or in the gym was the place for me," said Tiani. "I really liked teaching other people how to play games and how rewarding sports can be."
Transferring from the University of Maine to Keene State, where she played one practicum and student teaching in area elementary schools. "When I got to Keene State it just clicked. I knew the program was the perfect fit for me," she said.
Bev King, who has been a member of the KSC physical education faculty for more than 35 years, has watched Tiani grow from a student into a professional teacher. "When you watch Michelle teach, the first thing that comes across is her enthusiasm," said King, who preceded Tiani as the P.E. teacher at Wheelock. "She's also made great strides when it comes to classroom management strategies. It's been really fun to see."
Tiani, who interviewed for the job at Wheelock a day after graduating, also understands the importance of giving back to the profession. During the semester she will monitor up to four college students doing their methods teaching. Keene State athletes Eric Fazio and Preston Ingram are currently working with Tiani. "It was such a good experience for me when I was at Keene State to come here, so when I came to Wheelock to teach I told myself I was definitely going to have KSC students come and work with me," Tiani said.
Variety is the spice of life when it comes to teaching physical education at the elementary school level. One class might be kindergarteners or first graders who need to learn the basics of how to move, how to control their bodies, and fun ways to play at recess. The next class could consist of energetic fourth graders learning to incorporate skills such as running and skipping into a game.
One of the biggest challenges facing Tiani and physical education teachers centers on inclusion - getting the not-so-skilled or less athletic child to feel good about his or her accomplishments in class. "One of the things I worked on is making this a very safe place - a place where you can make a mistake and it's not a big deal," said Tiani.
Teachers are always learning. Michelle often compares notes with her husband Mac Tiani, a former KSC baseball player who teaches physical education at the new Keene Middle School. "He's my go-to guy," said Michelle. "If a lesson isn't going right, I'll even email him in the middle of the day and ask him a question. We're super lucky to have each other in the same district."
While the days of teaching square dancing in physical education class have gone the way of the phonograph and the scratchy record albums used for calling out the steps, Tiani hasn't totally abandoned teaching her students a few cool moves. "I've become the queen of wedding dances," she said. "I'm an expert at the electric slide and the Cupid shuffle. When my students go to a wedding, they're leading the dances."
Tiani gets great pleasure from seeing her students succeed in and out of the classroom. Taking her son, seven-year-old Cal, to a recent soccer practice, Tiani was delighted to see several of her students, including one who scored a goal. "He turned around and said, 'Mrs. Tiani, look! I kicked it and scored.' It was something he had worked on in class. It's a thrill when you see them take the skill from the classroom to games. They're so excited about it." Time has flown by for Tiani. Students who started with her 10 years ago are now freshman in high school. "I had Reilly Sullivan in kindergarten and she just made the varsity soccer team at Keene High," said a pleased Tiani.
More comfortable giving out praise than accepting it, Tiani is grateful about receiving the prestigious teaching honor. "It means a lot to get an award from your peers - your own colleagues, who already are doing an excellent job at their profession and now they're saying you do a good job too," said Tiani.
Related Stories