Student Callers Pitch in - with Enthusiasm!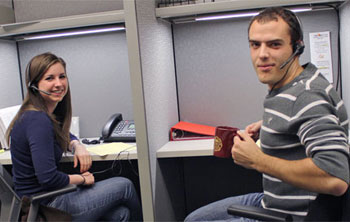 If you're an alum, you've likely received a call from one of KSC's very charming phonathon students. These dedicated souls show up to staff the phonathon room each evening for 10 weeks during the fall and spring semesters to engage alums and other members of the KSC community in the College's forward motion. They've just started this year, and thanks to their enthusiasm-and your generosity-they raised $10,464.81 during their first week on the job. At this moment, just 2 1/2 weeks in, they've raised more than $16,000!
"This good work is to the credit of my amazing student managers, Kaleigh Liupakka and Renee Giles." explained Assistant Director of Annual Giving Lindsay Taflas. "They are very supportive, understanding, and helpful to all the new callers. They set a great example by making calls themselves. It is a privilege to work with this gang. They are truly doing one of the most difficult jobs on campus, and they are always motivated to raise as many gifts as they can to help their peers. They understand that they are connecting with alumni-having conversations, sharing stories, and listening to memories-and they really enjoy their work. I would say that is why they are so effective. The call center is a very positive atmosphere to work in. I would hope any alumnus would look forward to talking to these stellar callers!"