Keene State Theatre and Dance Presents Nöel Coward's Classic Comedy "Private Lives"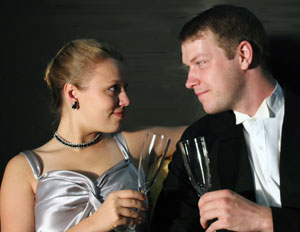 Keene State Theatre and Dance will present Private Lives, Nöel Coward's classic comedy of manners, Tuesday to Saturday, October 9 to 13, in the Wright Theatre of the Redfern Arts Center at Keene State College. KSC Theatre Professor Ron Spangler will direct this stylish, witty, and hilarious play each evening at 7:30 p.m. and at 2 p.m. on Saturday, October 13. Tickets are $10 for adults, $8 for senior citizens and youth, and $6 for Keene State students. For tickets, call the Box Office at 603-358-2168 or visit www.keene.edu/racbp.
Private Lives, written in 1930, follows a divorced couple, who find themselves on their honeymoons with their new spouses in adjoining suites at the same French seaside hotel. Once they discover each other there, sparks fly, passions ignite, and they are deeply in lust and love once again. This exciting and combustible combination prompts them both to leave their respective spouses and escape to a hideaway in Paris, where their passion and knack for aggravating each other resurface in full force!
After numerous Broadway revivals, the play by a British playwright continues to be a favorite with American audiences.
"I believe the reasons behind the many revivals of Private Lives are four- fold," explains Spangler. "First, and probably most important, is that his plays are truly funny, and everyone enjoys an evening of smiles and laughter. Secondly, Private Lives is considered to be Coward's masterpiece - the best example of his work. Next, it is a piece of escapist theatre, where we can remove ourselves from the harsh realities of our everyday lives (especially its economics) and watch and vicariously live the lives of the "idle rich." And finally, it is a play about the wonder and utter madness of being in love
and who can't relate to that?"
The play presents challenges for student actors, who will be required to use a believable British dialect and portray the affectations of Britain's upper crust. Spangler is certain that the cast he chose is up to the challenge and will learn to love the play just as he did when he played the lead role as a young man.
Students in the cast are: Jon Adams of Hudson, N.H.; Aaron Howland of Winchester, N.H.; Meghan Smyth of Foxford, County Mayo, Ireland; Kristine Sullivan of Wakefield, Mass.; and Katherine Wadleigh of Hollis, N.H. The stage manager is Lukas Theodossiou of Duxbury, Mass.
Related Stories