Redfern's Season Preview Party on September 19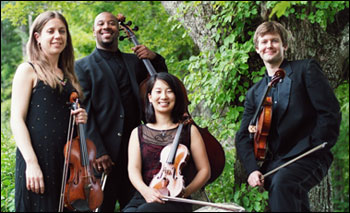 The Redfern Arts Center at Keene State College invites the community to a Season Preview Party on Wednesday, September 19, from 4:30 to 6:30 p.m. Following a catered reception in the Redfern lobby, people will get a sneak peek of season highlights including video and live performances by Apple Hill String Quartet and members of Keene State's Departments of Music and Theatre and Dance.
The Redfern's 31st season ranges from the political satire of Capitol Steps to the 1970s music of rocker Todd Rundgren and Ethel String Quartet to hip-hop artist Baba Brinkman's take on evolution and Chicago's Griffin Theatre Company's hit production Letters Home. This roster of performances includes modern dance legend Donald Byrd's moving homage to Jewish artists of the Holocaust, Alaskan-born dancer Emily Johnson's performance installation exploring cultural identity and place, and Keene State faculty dancer Candice Salyers' series of dance solos. New Hampshire's own Apple Hill String Quartet returns to the Redfern stage with MIT composer Christine Southworth and the Alloy Orchestra plays their original score during the screening of the silent science fiction classic The Complete Metropolis.
In addition to classical music by Apple Hill String Quartet, the Preview Party will include a jazz/percussion piece by Keene State music faculty member Chris Swist and a scene from last year's production of Rashomon by the Theatre and Dance Department. KSC dance faculty member Candice Salyers will present a short dance from a solo work in progress. Sara Coffey from the Vermont Performance Lab will provide context and discuss Emily Johnson's piece Niicugni. Staff from the KSC Cohen Center for Holocaust and Genocide Studies will speak about the collaboration between the Redfern and their department to co-present Spectrum Dance's provocative work based on Jewish artists who performed in Nazi death camps. In the lobby, visitors can view a display of posters, artwork, puppetry and costumes by the Redfern and the Departments of Art, Theatre and Dance while listening to the acoustic music of Wooden Dinosaur.
The Season Preview party is free, but reservations are requested. To RSVP, please call the Redfern Box Office at 603-358-2168 or email boxoffice@keene.edu.
About Redfern Arts Center on Brickyard Pond
The Arts Center is named in honor of Dr. Leo F. Redfern, Keene State College (KSC) President from 1969 to 1979 for his vision, commitment, and eloquence on behalf of the arts that made funding and construction of the facility a reality. In 1981, KSC inaugurated this new performing arts center, with the goal of providing unforgettable artistic encounters for the campus and community. Since then, the Redfern stage has hosted hundreds of amazing shows, from internationally renowned artists to emerging young talents to KSC's own student performers. Over the years, the Redfern has expanded its outreach programs and community partnerships, becoming an indispensible resource for the Keene community and beyond.
Related Stories