Capitol Steps' Political Comedy Opens Season at the Redfern Arts Center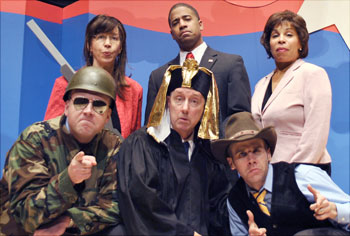 The Capitol Steps will spotlight the U.S. Presidential election when they open the season Thursday, October 4 at the Redfern Arts Center at Keene State College. The comedy troupe founded by former Capitol Hill staffers performs the Take the Money and Run for President program at 7:30 p.m.
"The Capitol Steps will hit the Redfern a day after the second Presidential Debate between standing President Barack Obama and Republican challenger Mitt Romney," said Redfern Director Shannon R. Mayers. "So I'm sure we'll hear some brand new material right from our stage on October 4th."
A post-show reception with the Capitol Steps will allow Redfern patrons to meet with the comedians whose nonpartisan political satire is ripped right from the headlines.
The Washington, D.C. based troupe known for putting the "mock" in democracy return to the Redfern after a four year hiatus with plenty of new material such as the Tea Party's invasion into the political spectrum ("Fun Fun Fun 'til Obama Takes Our Tea Bags Away") and the Democrats' plan to defeat the deficit ("Return to Spenders"). The Capitol Steps also offers their own take on such trendy topics as T.S.A. pat downs, illegal immigration and Facebook.
The Wall Street Journal says Capitol Steps "political satire brings chuckles …rave reviews…guffaws…and bipartisan grins all around."
Since 1981, the Capitol Steps have recorded 31 albums one for every year they have filled theatres throughout the U.S. and been featured on NBC, CBS, ABC, and PBS. They can be heard four times a year on National Public Radio stations nationwide during their Politics Takes a Holiday radio specials.
The Capitol Steps performance at the Redfern is sponsored by the Monadnock Radio Group.
Tickets range from $45 to $20, and $5 for Keene State students. For tickets, call the Redfern Box Office at 603-358-2168 or order online at www.keene.edu, where you will find more information about the Redfern's 2012-13 season, including outreach opportunities and other special events.
About Redfern Arts Center on Brickyard Pond
The Arts Center is named in honor of Dr. Leo F. Redfern, Keene State College (KSC) President from 1969 to 1979 for his vision, commitment, and eloquence on behalf of the arts that made funding and construction of the facility a reality. In 1981, KSC inaugurated this new performing arts center, with the goal of providing unforgettable artistic encounters for the campus and community. Since then, the Redfern stage has hosted hundreds of amazing shows, from internationally renowned artists to emerging young talents to KSC's own student performers. Over the years, the Redfern has expanded its outreach programs and community partnerships, becoming an indispensible resource for the Keene community and beyond
Related Stories