Folding Paper, an Exhibit Exploring the Art of Origami, Comes to the Thorne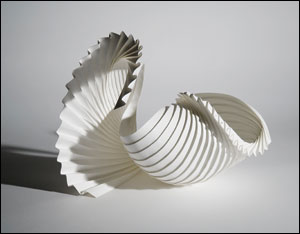 Traveling Exhibit Offers 140 Works by International Masters
The Thorne-Sagendorph Art Gallery, on the Keene State College campus, will host Folding Paper, a groundbreaking exhibition that explores the evolution of origami from craft to fine art, and its stunning modern-day applications in the fields of mathematics, engineering, design, and the global peace movement.
Works by more than 40 master folders from around the world-from countries as diverse as Japan, the United States, Uruguay, and Russia-showcase the power and potential of contemporary origami. In these artists' hands, paper is a medium for infinite creativity.
The exhibition's four sections illustrate the transformation of origami into its current vehicle for artistic, scientific, and spiritual expression:
The History of Origami
Animals and Angels: Representations of Real and Imagined Realms
Angles and Abstractions: Geometric Forms and Conceptual Constructions
Inspirational Origami: Impact on Science, Industry, Fashion, and Beyond.
The works range from lifelike and representational to mathematical and computer-generated to lyrical and abstract to social and political.
Folding Paper is curated by Meher McArthur and the tour was organized by the Japanese American National Museum, Los Angeles, and International Arts And Artists, Washington, DC. The exhibition was generously supported by the E. Rhodes & Leona B. Carpenter Foundation.
Folding Paper will be on display at the Thorne Gallery, off Wyman Way on the Keene State College campus, from October 13-December 9, 2012, and is free and open to the public. For more information, contact the Gallery at 603-358-2720 or visit www.keene.edu/tsag
Also on display at the Thorne at this time: New Art » New Hampshire V, an exhibit celebrating the work of seven up-and-coming New Hampshire artists.
Related Stories