Keene State College Hosts 10th Annual Safety and Health Achievement Recognition Program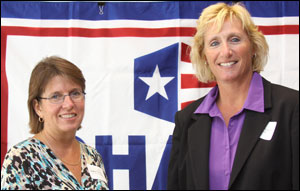 Small Businesses Recognized for Commitment to Workplace Safety
Keene State College hosted the 10th annual meeting of the Safety and Health Achievement Recognition Program (SHARP) on Wednesday, September 12. Small business leaders from the six New England states representing Region One of the Occupational Safety and Health Administration (OSHA), gathered to recognize the companies that have voluntarily participated in a rigorous program to develop safety and health plans that significantly exceed OSHA requirements. Recognition through the SHARP program signifies a company's ongoing commitment to identifying and eliminating workplace hazards that can cause injuries or illness.
Participation in the SHARP program requires an onsite inspection and consultation, the inclusion of the company's employees in the review process, a commitment to correcting all recommendations made by the consultant, and the development of an ongoing safety and health management system. Small businesses that are new to the SHARP program in the past year and have successfully met all of the requirements are recognized at the annual SHARP program. The September 12th program recognized Hans Kissle of Haverhill, Massachusetts for the company's first year in the program, and Oxley, Inc. of Branford, Connecticut, RockTenn of Bethel, Connecticut, Sanford & Hawley, Inc. of Unionville, Connecticut, Kendal at Hanover of Hanover, New Hampshire, and Penny Publications of Loudon, New Hampshire, for renewing their participation.
For small businesses, SHARP recognition advances them into a highly respected group of companies that have demonstrated their concern for employee safety and their efforts toward building a positive workplace culture. In return, businesses that have received SHARP recognition are not required to conduct OSHA visits for the following two years.
"The SHARP program reflects Keene State College's strong commitment to preparing a qualified workforce and to ensuring that our workplaces meet and exceed the requirements for a safe and healthy environment," noted Dr. Jay V. Kahn, Interim President of Keene State College. "We fully recognize the importance of the SHARP program and its positive impact on the businesses of the New England region by assuring safe productivity."
Speakers for the September 12 half-day program included Marthe Kent, Region 1 Administrator for OSHA, Keith Lohmann, Administrator from the New Hampshire Department of Safety, and Roy Roberts, Health and Safety Coordinator for LRGHealthcare.
At the conclusion of the SHARP recognition program, participants toured the newly opened Technology, Design and Safety Center at Keene State College. The 53,000 square foot facility came online with the opening of the fall semester and provides a state-of-the-art learning environment that emphasizes opportunities for students to gain proficiency in their disciplines by active hands-on work.
Incorporated into the design of the building are numerous features that minimize energy consumption and provide highly collaborative educational spaces. The building is the new home for the college's programs in Safety and Occupational Health Applied Sciences, Architecture, and Sustainable Product Design and Innovation.
Related Stories