New Art New Hampshire V Opens at the Thorne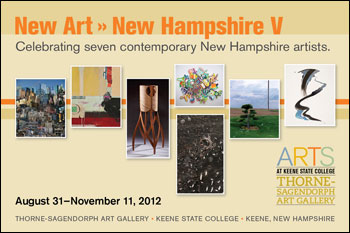 The exhibit, New Art New Hampshire V, opens at the Thorne-Sagendorph Art Gallery on the Keene State College campus on August 31 and runs through November 11. The show celebrates the talents of outstanding NH artists nominated by art professionals from throughout the state in the state by sharing their work with the people of the Monadnock region and beyond.
For this exhibit, the Thorne asked non-profit art-community professionals to nominate upcoming and important New Hampshire artists who are worthy of enhanced recognition. From a pool of 35 nominees, the Gallery selected seven artists for their high-quality work representing a variety of styles and media: Roger P. Goldenberg (Portsmouth, NH), Carol Gove (Temple, NH), Julee Holcombe (Rollinsford, NH), Ronnie McClure (Canterbury, NH), Annette W. Mitchell (Plymouth, NH), Soo Sunny Park (Lebanon, NH), and Leah Kathleen Woods (Portsmouth, NH). An online brochure about the exhibit and the artists is available for download from the Thorne website (www.keene.edu/tsag).
The Thorne-Sagendorph Art Gallery is free and open to the public. Hours: Sunday, Monday, Tuesday, Wednesday, noon-5 p.m.; Thursday and Friday, noon-7 p.m.; Saturday, noon-8 p.m. For more information, please visit the Thorne's website at www.keene.edu/tsag or call 603-358-2720.
Related Stories