Innovative Outdoor Play Space Enhances Child Development Center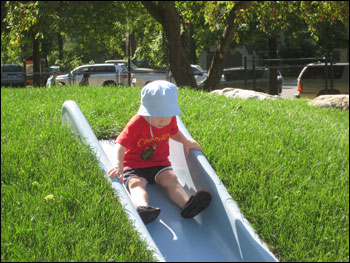 The Child Development Center at Keene State College is excited to announce the first phase of its innovative playground renovation.
CDC staff have been engaged in a project to create a natural playground for several years. Staff engaged in a two-year study, traveled to playgrounds around New England, attended conferences, and met with consultants who specialize in this emerging field. Thanks to support from people campuswide, the college was able to complete the first phase this summer, with further renovations to continue next summer.
Studio MLA Architects of Brookline, MA, worked with KSC and CDC staff on the design with an eye to both natural beauty and children's development and safety. Bud Winsor, assistant director of physical plant at Keene State, also brought his own creative eye to the project. Travis Ellsworth contributed skilled and beautiful brick, stone, and landscaping work, and Frank Lucius Construction donated labor and equipment.
Natural playgrounds rely less on equipment, and more on natural elements, than typical playgrounds. There has been much research concerning the role of the natural environment and a young child's development. Outdoor play supports young children's growth in many key ways, including physical (balance, strength, endurance, gait, etc), social and emotional development. There is much to learn from nature, as the great outdoors serves as a science classroom. And children can learn to be stewards of a natural environment: Children who care about the natural world are more likely to grow into adults who also care about the natural world.
Sadly, many young children have little opportunity to play in natural settings the way some of their parents and grandparents were able to, and they are often limited to using "screens" or engaging in regimented and structured programming which may not allow for outdoor play. Even many playgrounds around the country are made with synthetic materials - using equipment, Astroturf, or other surfaces not made in nature. Some children are spending as many as sixteen thousand hours in childcare before they reach kindergarten. The CDC's goal is to offer children the magical experiences of a beautiful natural environment.
The Child Development Center's commitment to the Early Sprouts Curriculum, in combination with this new outdoor space, helps place Keene State within a national educational movement which promotes children's reconnection to nature, to healthy eating, to physical fitness, to natural science, and to sustainability.
Related Stories