Dr. Susan Whittemore, Leader in Undergraduate Research, Named Distinguished Teacher of the Year by Keene State College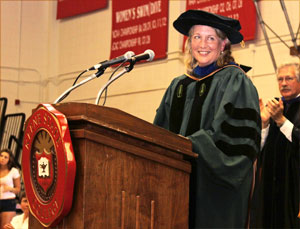 Keene, NH, August 23, 2012: Keene State College announced the recipient of the 2012 Distinguished Teacher Award - Dr. Susan Whittemore, Professor of Biology. The award is presented annually by the Keene State College Alumni Association to recognize excellence in teaching, encouragement of independent thinking, rapport with students, and effective student advising. Professor Whittemore is the 42nd recipient of this distinctive honor and has earned the award for her excellence in teaching and advising.
Dr. Whittemore joined the Keene State Biology Department in 1993. She teaches courses in animal physiology, endocrine disruption, introductory biology, and classes for non-majors. After receiving a B.S. in Wildlife Biology from S.U.N.Y. College of Environmental Science and Forestry, she worked as a wildlife technician at Cornell University for four years. She then earned an M.S. in Wildlife Biology, studying coyotes at the U.S. Fish and Wildlife's Predator Ecology and Behavior Unit at Utah State. She obtained her Ph.D. and completed a postdoctoral fellowship in physiology at Dartmouth Medical School.
Dr. Whittemore considers scientific research to be one of the most potent and robust educational experiences available to her students - for this reason, she has remained committed to maintaining an active program of undergraduate research at Keene State. Her current research program involves identifying the mechanisms of toxicity of certain common pollutants during development. In 2010, she was awarded an ongoing grant from the National Institutes of Health's New Hampshire IDeA Network of Biomedical Research Excellence Program, or INBRE, to support her research and undergraduate training efforts. Students and faculty are clearly inspired by Dr. Whittemore's achievements as a professor and advisor.
One former student said with Dr. Whittemore, "I learned that professors aren't there to simply give you an answer, rather, they can collaborate with you to help inspire you to answer your own questions." Another former student who nominated Dr. Whittemore offered: "If Dr. Whittemore hadn't been such an excellent teacher and gone out of her way to help me, I would have had little chance of finding my way onto my current path." A fellow Biology faculty member noted that "Susan is both creative and fearless in her approach to education - always willing to try new ideas while keeping them centered on how to help students learn."
"Being a mentor is rewarding, but serious and very challenging, work. Too many equate mentorship with cheerleading. However, honesty and trust lie at the heart of any effective mentor/mentee relationship," said Dr. Whittemore. "Students should be able to trust that their mentors are providing them with candid appraisals of their strengths as well as their weaknesses and they would be wise to cultivate relationships with those who take their academic goals and career ambitions seriously."
"It's so important for students to learn how to accept and even actively seek out critical feedback on their work so that they can make the necessary improvements and get the most out of their educational experience," Dr. Whittemore concluded.
Related Stories