Students Gather Critical Data on Prescription Drug Abuse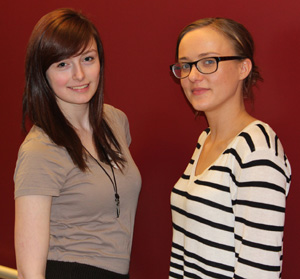 New Hampshire has a serious problem with prescription drug abuse, though few people realize it. It causes more deaths than traffic accidents in the state, and our rate of pain-medication abuse among 18- to 25-year olds is the second-highest in the country. It's a big factor in the rise in such crimes as illicit sales and theft.
Keene State students, in partnership with Monadnock Voices for Prevention, conducted a semester-long research project to study the problem in this part of the state and come up with some solutions. The information the students gathered, and their recommendations, not only informed strategies for the Monadnock region, but they also impacted Governor Lynch's statewide plan to address prescription drug abuse, which was released in January (Call to Action: Responding to New Hampshire's Prescription Drug Abuse Epidemic).
The KSC research was especially important, because the students collected data on the adult population that was affected by prescription drug abuse, while most other studies focus on teen agers and young adults. "The students provided recommendations that no one has ever thought of, and we will be doing our best to implement the recommendations in the Monadnock region," said Kelly Steiner, prevention project director at Monadnock Voices for Prevention. "Based on the recommendations and data gathered by Keene State, we have been able to apply for grants and look for ways to expand our services to address this serious problem."
For more information on the study, see the two articles that ran in the Keene Sentinel: "Drug abuse studied"  and "Students aid in prescription drug study."
Related Stories