Keene State Announces Changes in Sports Information Staff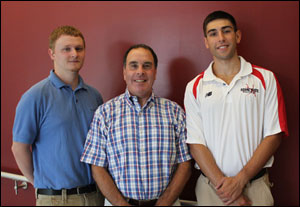 KEENE, N.H. 8/2/12 - Keene State College's sports information department will have a slightly new look to it this year.
Stuart Kaufman will continue his role as the College's Sports Information Coordinator. His staff will include a pair of KSC grads and journalism majors Christian Harrison '10 and Mike Steiner '11. Harrison, who has served as Keene State's coordinator of new media the past two years, will have an expanded role in sport information, while Steiner, a former sports editor of the school newspaper, the Equinox, is a first-year member of the department. Serving as the College's assistant sports information coordinator the past three years, John Napolitano '08, has relinquished his SID duties, but will remain as the throwing coach on the Owls' track team.
"Sports Information is a key component of the College's Athletic and Marketing & Communications departments," said KSC Director of Athletics John Ratliff. "I'm sure Stuart and his staff will continue to do a great job promoting the accomplishments of the program's teams, coaches, and student athletes."
Kaufman, a native of Milton, Mass., returns for his 20th year as sports information coordinator at Keene State. He has won numerous CoSIDA writing awards, including a story about a pair of Owl baseball players who joined the Nashua police force. That story was picked second in the 2009 Fred Stabley Sr., contest.
A former three-sport athlete at Belmont (N.H.) High, Harrison has been an integral member of the Keene State athletic staff since graduating, producing videos and highlights for the athletic web page as well as serving as one of the "voices of the Owls" on web broadcasts of Keene State games.
"I've done a little bit of everything the past two years and look forward to doing more sports information work, which will allow me the opportunity to expand my skills," said Harrison.
The newest member of the staff, Steiner (from Holliston, Mass.), will be involved in all facets of the department: producing programs, compiling statistics, and writing stories for the media and web. "I keep telling people I got extremely lucky," said Steiner. "I can't imagine a better position than going back to your alma mater and covering sports you're already passionate about."
Related Stories